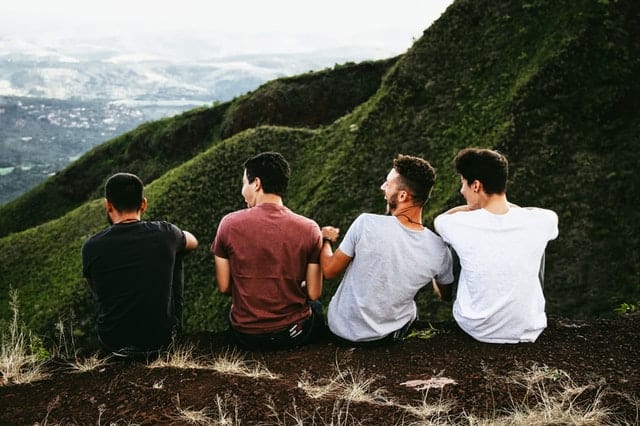 Do you have a friend that you haven't talked to in a while?
Do you want to reach out but feel unsure of what to say in English?
Do you want to make that connection again but feel uncertain what the right approach is?
We all lose touch with friends from time to time, and that's normal.
We're going to talk about how you can approach these situations, and what the right things to say are if you want to regain that connection.
Get Your Transcripts Today!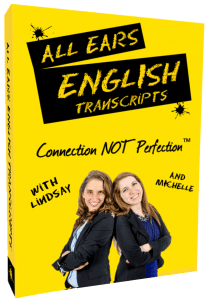 Make sure you understand every word you hear on All Ears English.
Bring your English to the advanced level with new vocabulary and natural expressions.
Subscribe and get the transcripts delivered by email.
Learn to speak naturally with the American accent.
Click here to subscribe and save 50%
We have a question about this situation that so many of us have been in.
Hi Michelle and Lindsay,

I've been listening to your show for six months now, and I really enjoy it. I have learned the natural way of speaking, and it's far from what I learned from just my teacher. What I learned previously was so robotic and stiff, and I'm so grateful I found your show and a new way of speaking. You help so many of us learn the right way to speak!

I could use a little help from you guys. I have a friend that I haven't chatted with in almost a year. I messaged her on Facebook to find out how she was doing. I wanted to ask her more about her life, but I wasn't sure what phrase to use. I wanted to ask her what she's been doing since we haven't talked in so long. I wanted to see if she's in a relationship or what she does in her spare time.

There is so much I wanted to know about her, but I wasn't sure how to ask it. I really need your help with this. I'm still learning English and I make mistakes, but I'm doing my best to express myself in English. I would greatly appreciate your help!

Thank you very much,

Carrol
Working Through This Common Situation
This is a very common occurrence, and we've all been there before.
We have done an episode on this that may be helpful to listen to for background.
This gives you a really great foundation for these situations– It's Been A Minute! How To Connect When You Run Into Someone
This is so important for connection, particularly if you want to re-establish that after a lengthy period of time.
This can be tough if you live far away from each other, or if you just lost touch through the years.
When you haven't talked in a while, it usually requires a longer conversation.
If you talk to somebody frequently, then the conversations may be shorter because you know the details of each other's lives.
If however you don't speak often, it becomes a much bigger and longer conversation.
So yes that connection can be re-established, but you want to allow enough time for this conversation.
You also want to be mindful of how you reach out to this person if it's been a while.
What To Say When It's Been A While
When you haven't talked to somebody in a while, this can make for a somewhat awkward situation.
You want to know the right things to say, but you may feel a bit unsure.
There are some things you can say to get the conversation going again.
To reach out initially when it's been a while, you could say something like
Hi ________________, how have you been? It's been too long!
How is everything with you? I've been wondering how you are!
If you are asking for updates and you want to learn more and continue the conversation, you could say a few different things like this.
What's new with ____________? How's your dating life? Your job? or How's ______________ going? (these can get a bit more personal)
What have you been up to?
Have you done any ________________ recently? (traveling, cooking, hobby)
If you know that you have things in common or great memories, it helps to bring these up.
This gives you a point of connection and can really get the conversation started.
I've been ____________________ a lot lately. Remember when we _____? Do you still ____________?
I've been playing a lot of guitar recently. Remember when we jammed on your porch? Do you still play guitar?
I've been thinking about ___________. I really miss those days! I've been thinking about our trip to Canada. I really miss those days!
You want to be sure to mention that you want to keep in touch if you want to talk more.
It's really important to remember that you want to show this person that you care, and that you're interested in what they are doing.
You also want to connect and remind them of memories of your relationship in some way.
Roleplay To Help
This is definitely a conversation that you want to be prepared to have.
That's where a roleplay can come in handy, particularly if it's been a while since you've talked to this person.
Michelle says: "Hi Lindsay. How have you been? It's been too long!"
Lindsay says: "I'm good Michelle! Great to hear from you. How are you?"
Michelle: "I'm good thanks! What's new with you? How's your job going?"
Lindsay: "Oh it's so good, I love it. Yours?"
Michelle: "Yeah it's good. I've been meaning to tell you, I've been baking a lot lately. Remember when we made that delicious chocolate cake for my birthday?"
Lindsay: "Oh my goodness, of course. How could I forget? That's great! I just made croissants for the first time."
Michelle: "Oh that's great!"
And the conversation goes on and on from here!
Takeaway
This is a huge connection skill and it takes some practice.
Reaching out can be hard and sometimes a little awkward, but just make it as personal as possible.
This shows that you really care, and it will help the two of you to connect in a whole new way again.
It doesn't matter how long it's been, if you have the right things to say then you can get the conversation going and connect again.
If you have any questions, please leave them below in the comments section.
We'll get back to you as soon as we can.