Have you looked at the current state of affairs in the US and wondered how we got here?
Do you ever wonder how the culture wars have come to be?
Today we're going to look at civil rights from the point of view of our current president and the issues going on in our country today.
There is a clear division in our country and many issues because of this, and it's time to understand why this exists and how things may get better someday.
Get Your Transcripts Today!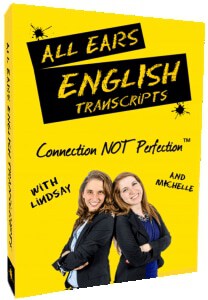 Make sure you understand every word you hear on All Ears English.
Bring your English to the advanced level with new vocabulary and natural expressions.
Subscribe and get the transcripts delivered by email.
Learn to speak naturally with the American accent.
Click here to subscribe and save 50%
Looking At Civil Rights From The Point of View of the Current President
This is the third part in our series on civil rights in the US, and today we look at it from the angle of our current president and his platform.
We've already covered a lot, such as in the first episode we covered a timeline of racial inequality in America.
We need this context to understand the huge reaction in America surrounding police and race.
The second episode we talked about the police and the systems that enable them to act a certain way in some circumstances.
Today we are talking about Trump's political platform and what he stands for.
Then we're going to look at how this relates to the issue of race.
This is a lot to take in as we're in some unusual times, but this is information you need to understand civil rights from every angle.
A Very Different Type of President and Followers
If you contrast him to other leaders, he reacts very differently and doesn't lead in the racial issues and the health crisis.
Some say that he has created a very divided nation because of his reactions.
He has some very loyal followers who believe in everything he stands for, and this is right around 30% of the voters.
He tends to tap into fear and empowering people to look at people as a victim of whatever system is referenced.
He has pointed to the media being at fault for example, which feeds into this hate.
This fuels a very separate division and therefore creates a culture of hate across the board.
He may not be a popular president, but he has an extremely loyal follower.
Some Republicans are starting to pull away and has lost the military endorsement, which is huge.
He called in the military to tear gas peaceful protesters so he could take a picture in front of a church, which turned people away from him.
He has fought against our First Amendment rights which is the right to protest.
This is something that has turned some of his followers or fellow Republicans against him.
What Has Fueled Some of the Issues?
There are some specific reactions to George Floyds death which caused the issues.
These reactions that Trump has had and the way in which he's handled things have contributed to the state of affairs right now.
If you are trying to understand how we got to this current state and why things are so explosive right now, these reactions and decisions can help to illustrate why.
Police being able to put choke holds on people: He made comments that said that this action was "innocent" or "perfect." He said initially that he thinks this was a positive and appropriate reaction, but then he went back and said that maybe we shouldn't do this. He played both sides as he said one thing and then went back and said something else as a secondary reaction. He has done that back and forth many times, and this is a problem in and of itself.
His reaction to George Floyd's death and the Black Lives Matter Movement: He was talking in a speech about how well our country is doing and then he said "George Floyd was looking down smiling at what we are doing right now." He has consistently not showed support towards the movement or towards this tragic death. Yet when he was giving this pivotal speech, he referenced something that was inappropriate and unfounded.
An unspoken approval of horrible people: He has backed white supremicists. He was talking on Juneteenth which is a day very special and important to the black community. He decided to hold a rally on this day which he then changed after some pressure. Then he decided to hold this rally in Tulsa, Oklahoma which was the site of a huge massacre of members of the black community. In 1921 there was still very much segregation between white and black people. The black community owned a great portion of this area in Tulsa known as Black Wall Street and were very successful. White people at this time didn't like their success, and ended up killing many black people out of hate. The fact that Trump decided to hold a rally in this place was not believed to be a coincidence. He did not have great attendance which may really help to tell the story here.
These issues among many other bad decisions and lack of leadership help to show what is going on.
This paints a picture of how the issues of today have become so heated and continue to gain traction.
Looking Forward To The Future With Hope
People are starting to speak up about him and against his actions.
There is hope that somehow there will be change or that people will see the state of things for what they are.
There are books that are supposed to be published by insiders who can tell the story of what is really going on within Trump's presidency.
Many believe that if he had another term it would be destructive.
This moment may be a test of how we rise above as a nation and handle circumstances like this.
People are trying to get back on track but it's really hard, though people speaking up against him may help this even more.
There may be some great hope moving forward, and it's going to be important to keep an eye on things.
Next we will look at civil rights from the perspective of the pandemic.
All of this helps you to understand the divisiveness going on within the country.
Takeaway
There is a lot of division and hate amongst people within the US right now.
It's important to understand why this division exists, which is due in part to our president.
As we are looking at the various aspects of civil rights, it's important to look at it from the perspective of our president and the affect his viewpoints have on our country.
There is hope for the future as we are in an election year, and many hope that things will get better.
For now though it's important to understand how we got here, why our current conditions exist, and how we can hopefully move past this in the future.
If you have any questions, please leave them below in the comments section.
We'll get back to you as soon as we can.