Have you heard somebody say that they are going to "tear up" something?
Is it confusing to hear the word "up" used in this way in English?
Today we're talking about phrasal verbs, which may seem a bit confusing or intimidating at first.
We are looking at phrasal verbs that use the word "up" specifically, and you will learn how to use them and how these can be a great part of conversation.
Get Your Transcripts Today!
Make sure you understand every word you hear on All Ears English.
Bring your English to the advanced level with new vocabulary and natural expressions.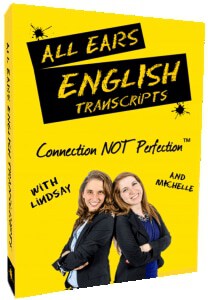 Subscribe and get the transcripts delivered by email.
Learn to speak naturally with the American accent.
Click here to subscribe and save 50%
Today we have a question about phrasal verbs, and it's a great one to lead us into this area.
Hi ladies,

I love your show! My name is Roberto, and I'm from the Dominican Republic but now I'm living in Canada. I have a question about how the word "up" is used in some phrases.

I've seen this used a few times such as in something like "burn it up." I would like to go deeper on this and understand how this works.

Thank you in advance for your help!
Some Background On This To Understand
It's true, you will see the word "up" used quite frequently in certain phrasal verbs.
In the example "burn it up" was used, but that's not necessarily one that you hear very often.
It may mean to upset someone, but this is a bit unclear.
You might say something like "burn up" which could apply to something like sunburns.
You could say something like "I always burn up when I stay out in the sun for too long."
You may even apply it to talking about when you get too hot in a certain situation.
You could say something like "I'm burning up, let's go inside."
You may even say it about something with a real fire like "I'm going to burn up my old yearbook so I never have to think of high school again."
We did an episode about a usage for the word "up" in the past, and that's something to check out for a little help.
AEE 363: "Grow" Versus "Grow Up": How to Tell the Difference in English https://www.allearsenglish.com/grow-versus-grow-up-how-to-tell-the-difference-in-english/
We have talked about phrasal verbs a lot in the past, because it's an important topic.
Today we are going to give you some unique ones that will make you sound very fluent and natural–we can always use more phrasal verbs!
Some Common Phrasal Verbs Using The Word Up
So you may already have a bit of an understanding about phrasal verbs, but we're going to look at the ones that use the word "up" specifically today.
You might be surprised at just how many there are, and these can be great to use in conversation in the right settings.
Clam up: This means you don't say anything. You might even think of the visual of a clam closing. In this situation, you may not speak because you feel worried, scared, nervous, or something like that. You could say "Rachel clammed up after the presentation because she felt it didn't go well."
Shake up: This means to freak someone out or make them uneasy or upset. This reaction is usually because they are very surprised by something, and this is their reaction to it. You might hear "Tommy shook me up when he told me that his company was going bankrupt."
Crank up: This means to increase something's intensity. You might hear this about the volume of something you are listening to. It can also apply to the energy you are putting into something like exercise, air conditioning or even heat. You might ask "Can you crank up the radio? I can't hear a thing!"
Free up: To take away or clear an obstacle so something else may be used or done. You may try to free up your time or free up something so that you can get past whatever is standing in your way. You could say "Can we free up some space on the table for this new computer?" Another good example is "I need to free up some time tomorrow for my meeting."
Touch up: This is to improve something, usually in a small way. It may be a touch up to paint in the house or something as simple as touching up your makeup. You could say "I need to touch up my mascara before we leave."
Don't get intimidated with phrasal verbs, because they can be great to use. Start slow and have the right approach—you can start by choosing one word as your theme and learn in that way.
This will help you categorize the new terms in your head.
Takeaway
We have given you new phrasal verbs with up, and these are not your typical ones.
We have given you examples and discussed them, and how they apply to our real lives.
Now comes the fun part to go out into the world and try them out today!
Phrasal verbs may feel a bit confusing at times, but if you take it slow then you can welcome these into your conversation in a natural and fun way.
If you have any questions, please leave them below in the comments section.
We'll get back with you as soon as we can.