Have you heard the term "cancel culture" used in English?
Do you hear it used in conversation or on social media and feel a bit unsure about it?
This is one of those phrases that is new and yet has quickly become a part of the culture.
We're going to look at this term, what it means, how to use it, and why this is such an important focus in today's culture.
Get Your Transcripts Today!
Make sure you understand every word you hear on All Ears English.
Bring your English to the advanced level with new vocabulary and natural expressions.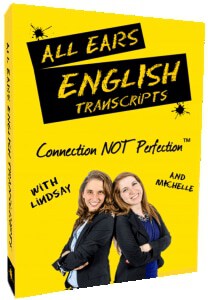 Subscribe and get the transcripts delivered by email.
Learn to speak naturally with the American accent.
Click here to subscribe and save 50%
Looking At A Newer Term In Today's Culture
Have you heard about the term "cancel culture" and do you know what it means?
We'll look at examples, and even celebrities, that are being cancelled.
Find out how to talk about this very common topic with natives in conversation.
We're in the midst of a series where we're talking about memes and vocabulary that natives are using, particularly on social media.
These are not topics that you will ever hear about or learn about in a classroom.
These are newer topics that we've touched on such as the "Karen" meme, and also about trolling.
Today in this series of new for native topics, we are talking about "cancel culture."
When you talk about cancel culture, this really means that if somebody does something that is politically incorrect, then they are "cancelled."
Looking Into This Idea Even Further
This is new even to natives, and it means when somebody does something that is unacceptable and people react negatively to it.
This is particularly important right now when people are very aware of what they are doing or should be doing.
People may troll them online or they may have people stop following them.
In a time of social justice, people show that they do not support them anymore since they made a very bad decision.
This can happen to certain brands and cost them a lot in sales.
It can happen to celebrities so that these public figures are called out and people stop following or support them.
It may be that a company starts to support something controversial, and then people stop buying their products.
This all comes down to somebody in the public eye or a company making a bad decision or taking a controversial stand—and then the rest of the world reacts to it.
This can be the demise of a company, create the fall of a celebrity, or end up having dire consequences.
This is made even more prevalent through social media where everyone can weigh in and start a movement to take down a company or celebrity because of their negative actions.
We're going to look at a few examples of when companies are cancelled.
Some Examples of Cancel Culture At Work
The most recent example is Goya, that makes beans and canned goods.
They made a pro Trump comment, which many felt was controversial.
Since they publicly supported Trump, this upset a lot of people.
This in turn made people stop wanting to buy them, and a boycott was set up online through social media.
As our awareness grows about people who have been marginalized in the past, there are more and more words today that are considered to be politically incorrect.
This may mean that more and more companies that are called out on their policies.
The whole company may be held accountable for that, which can be harmful.
This isn't new though it's prevalent, as Nike suffered from this in the 1990's.
They were found to have sweat shops where questionable work practices were used.
People decided to take a stand and stopped buying Nike shoes and products.
This happened at Hobby Lobby where they refused to allow their female employees to have access to birth control in their insurance.
They are a very religious company, and therefore they took a stand in the insurance they provided to female employees.
This created a lot of animosity amongst employees, and word got out that this practice was happening.
These sorts of things happen, and people may in turn stop shopping there.
This happened with Chic-Fil-A as they are deeply religious, and they don't support the LGBT community.
This created a lot of bad feelings, and therefore people stopped dining there.
It Can Have A Deep Impact On An Individual
If a celebrity such as a professional athlete does something or takes a stand that may be controversial, then this may cause a lot of problems for them down the line.
This may impact their reputation, cost them followers, and ultimately create their demise in the public eye.
Think of Colin Kaepernick who took a stand for Black Lives Matter, and the whole cycle and fall out that this created.
Some people may not have initially agreed with how he handled things and how he "took a knee", which means to go down on one knee during the National Anthem.
He did this to draw attention to BLM and the social injustice and racism happening in our country.
This was very controversial because while some people agreed with his idea and practice, others felt it was unpatriotic.
He was therefore not able to play football for a team and suffered a negative consequence.
In the long term though, he ended up getting more sponsors and became a very important part of the BLM movement.
His career however took a significant down turn as a result of his actions, and many people stopped following or supporting him.
His life was forever impacted, though in his case he became a very positive figure in a huge movement across the country.
This Can Change Things Significantly
Suffice it to say that a company, brand, or public figure being canceled can have a significant impact.
It can change the way that they do business or can lead to even more negative consequences in the long run.
Have you ever cancelled any companies?
Have you felt that a company made a bad decision and therefore stopped buying their products?
Some people may not allow this to have an impact in their shopping behaviors, but many do change their behaviors and attitudes.
It can have a deep and lasting impact though to companies, and it can cost them a lot in sales—this is particularly true in the age of social media.
When people like a celebrity or a company end up saying or doing something controversial in nature, people will cancel them without a second thought.
This means they will stop supporting them, stop shopping in their stores, or stop buying their products.
This is a very interesting topic, and we want to hear from you on it.
Take the time to come back and answer these two questions to get the conversation going on this current and important topic.
1. Does this cancel culture happen where you live? Think about if celebrities or companies are canceled due to their beliefs or their actions where you are from. This can be interesting to see if this is truly a cultural thing or a universal type of action.
2. Do you have any questions on these very current topics that we're touching on in this series? Ask a question if there is an explanation that you could use to help you. These are all new topics and we want to help you and do a good follow up.
Takeaway
This is an episode where we especially welcome your questions and your comments.
The idea of the cancel culture isn't new, though it is very prevalent in the news these days.
Think about this and ask yourself it this is something that you see happen in your own culture.
In this day of social media and people trying to do the politically correct thing, this is a very real phenomenon.
Think of examples that you've seen of this, and then come back to answer these questions and keep the conversation going.
If you have any questions, please leave them below in the comments section.
We'll get back to you as soon as we can.