Have you heard somebody say that they had to "turn in" an assignment?
Are you a student and you have been in a situation where you had to "go over" something again?
Today we're talking about phrasal verbs within the area of education.
You may have heard some of these, so you can see which ones are common, and then start to use them in conversation in a very natural way.
Get Your Transcripts Today!
Make sure you understand every word you hear on All Ears English.
Bring your English to the advanced level with new vocabulary and natural expressions.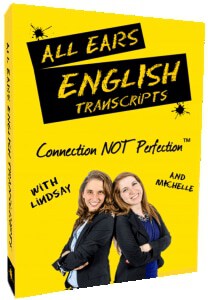 Subscribe and get the transcripts delivered by email.
Learn to speak naturally with the American accent.
Click here to subscribe and save 50%
Looking At Phrasal Verbs For Education
Today we're looking at phrasal verbs for education.
There are many of these, and they are sure to come up in conversation often.
There are so many phrasal verbs with the verb "take" as an example here.
Take up
Take on
Take away
Take over
Take out
Take off
Take into
Take down
Take through
Take with
Take for
You can see that there are a lot of them, and each one has totally different meanings.
It might be hard to keep them all straight if you learn them together, so you want to take them one at a time.
Instead, learn phrasal verbs in context as that can help you to really let each one sink in.
In our last episode we discussed phrasal verbs for travel and today we'll talk about some related to education.
If you're taking a class or have the right context to use these, then these are the phrasal verbs that will likely be a part of your conversations.
Looking At Some Common Examples
So you can see that there are many different examples in this area.
That's because they are so common, and therefore it may help you to look at a few examples to make this a bit easier.
These are some typical phrasal verbs that you may use in the area of education, and they can all be a helpful part of your conversation.
Be into: This is when you are really submerged into something. You are hooked and you can't stop learning more. It's something that really captures your attention. This may be something like an article or a good book. You may be learning about something new and therefore you feel like you are really into it.
Take up: This is something that you are suddenly taking an interest in. This is new to you and it is drawing you in and getting your attention. This is different than take on which is engaging in some sort of task or challenge. In this instance it's something you've never done before and so you might take on a new activity, sport, or hobby.
Go over: This means to check your work or to go through something again. You never want to just leave it up to chance, and therefore when you go over something you are ensuring that things were done correctly. You might go over or check carefully your essay before you submit it. You may go over, discuss, or explain instructions that you got on something before you begin.
Read up on: This is a very specific one and it ensures that you are very focused in this area. You are going to read up on or research something so you can learn a lot. You are studying it to become more well versed at it. You may be reading up on something like a health condition which you may suffer from, so you know how to deal with it.
Hand out: You can almost visualize this as this is passing out something to others. You may hand out books in class. The teacher may hand out treats before class as a nice gesture. The idea is that you are sharing with others in some capacity.
Hand in/turn in: You are getting something to someone here. You finished your assignment, so you are going to hand it in to your instructor. You may have been struggling, so you turned in your assignment late to try and save your grade.
These are all very common within the area of education.
You are likely to see them a lot, and so you want to get some practice using them in conversation.
Role Play To Help
This is definitely a situation where a roleplay can come in handy.
In this roleplay, Lindsay and Aubrey are talking about aspects of their education and sharing ideas.
Lindsay: "Have you taken up anything new lately?"
Aubrey: "Yeah, I started a World History course at the community college."
Lindsay: "How's that going?"
Aubrey: "I love it! I've always been super into history, so it's been fascinating."
Lindsay: "Awesome. We have that in common – I've been reading up on the history of banking and it's so interesting. Do you do a lot of group work in the class, or is it more listening to a lecture?"
Aubrey: "Some of both. The instructor will go over a topic and then hand out an assignment. We usually discuss it in a group and then write something to turn in."
Lindsay: "Does the teacher go over the results with you?"
Aubrey: "No, that's one thing I don't love. We don't get our work back, and a lot of it isn't graded. It's a bummer because I'm really into feedback – it motivates me to always be improving."
Lindsay: "That would be frustrating!"
Aubrey: "What about you? Any hobbies or interests you've taken up recently?"
Lindsay: "Yes, motocross!"
Takeaway
Phrasal verbs can be difficult to learn because each verb has so many meanings that are unrelated.
Instead, pick a topic and learn the phrasal verbs that we use for it.
If you learn today's verbs about education in context, you'll be able to learn the meaning of each one and use them correctly.
Practice them and see how each one feels, and then it will become more natural to you.
Though this can be challenging at first, when you practice this and figure out which ones work best in a sentence, you will become a natural in no time.
If you have any questions, please leave them below in the comments section.
We'll get back to you as soon as we can.