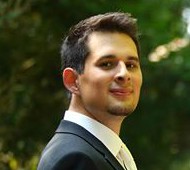 Today you'll hear about a concept called Culture Hacking.
You'll learn what it is and how to use it to get the skills you need to succeed with English in life and in business.
What is culture hacking all about?
It's about learning more than just words and grammar.
We need to understand the way of thinking and the mentality of the people who speak our target language.
Our guest today Belasz has learned 7 languages using his method of Culture Hacking.
How can you start "culture hacking"?
Look at metaphors: We can learn a lot about the history and the geography of a country by looking at their metaphors. Behind each metaphor there is a way of thinking. One example is, "Time is money." With this metaphor we can learn a lot from American culture. You can find the metaphors by listening and reading. Try reading a little bit about cultural semantics. There are a lot of books and courses that will help you get started.
Pay attention to cultural scripts and norms of behavior: Every culture has specific scripts and norms or expected ways of behaving. For example, when you pick up the phone you might say "how are you doing?" This will help you improve your personal and business relationships across cultures when you understand these scripts and norms. We can understand every word in a language but if we don't know the scripts we'll probably fail.
Go beyond translation when you're learning words: Many words cannot be directly translated into another language. Instead, you need to understand how people are thinking and forming concepts in order to say something in a new language. Don't just memorize words!
Can you do this from home?
Yes. You don't need to travel thousands of miles.
You don't need to live in another country.
Make sure you understand every word you hear on All Ears English.

Bring your English to the advanced level with new vocabulary and natural expressions.

Get the transcripts from today's episode.

Learn to speak naturally with the American accent.
Bio:
Balazs Csigi is a linguist and language teacher, who speaks seven languages.
He pioneered the concept of culture hacking as a way of mastering English through understanding its mentality and cultural background.
He is the co-founder and CEO of Metaphor English where he promotes his online English fluency courses, together with his wife, Mariana, who speaks five languages.
To get your free email course from Methaphor English click here
What questions do you have from today?
Let us know in the comments below!