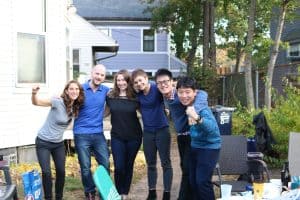 What did you do over the weekend?
Do you know how to properly ask a native speaker what they did on the weekend?
Should you use "over" or "during" or "on" or all three?
Find out in today's episode.
Here is a question from a listener:
Hi girls,

The expression "over the weekend", used in your e-mail, reminds me one doubt I always have.

Can I say "during the weekend", "during the lunch", etc, instead of "over"?

Thanks for your time!

Sergio
Good questions Sergio.
The answer is YES, you can say "during the weekend" or "during lunch" instead of "over the weekend," but it's less common to say "over lunch" but we do say that and we'll cover it in a different episode.
Let's throw out a bunch of ways to say this:
I went jet skiing over the weekend.

I played cards with my niece last weekend.

During the weekend we went skiing.

On the weekend I got my car fixed.

This past weekend I went to Stowe VT for good ice cream.
What's the takeaway?
There are a bunch of different ways to express that something happened during a period of time like the weekend, or during lunch.
Sometimes your choice of words is going to depend on the specific situation but on a general level you can say: during, on, over.
We'll do other episodes in the future to get more specific and follow up on this topic.
What questions do you have?
Let us know in the comments below.