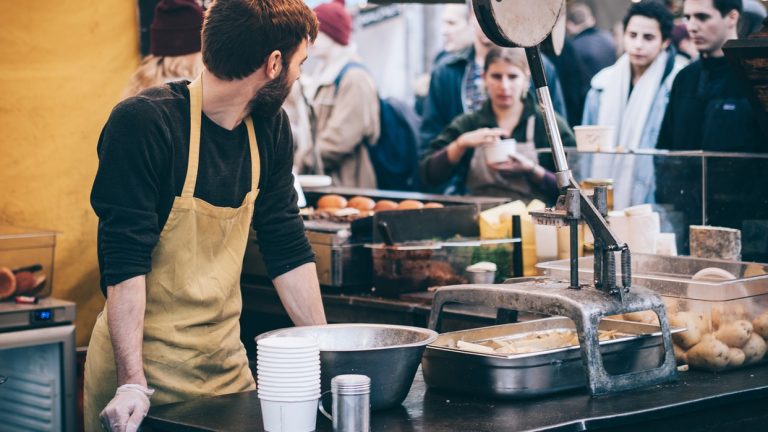 When you have been traveling around the US, did you notice a difference in tipping culture?
Do you feel obligated to tip?
Have you ever wondered what the tradition or culture says about tipping?
If you have ever been confused about tipping, we're going to get into all of the details of this.
You will understand how tipping is supposed to work and what you should know moving forward.
Tipping Can Be Very Different Based Upon Culture and Area
Are Americans too focused on tipping?
There was recently an article by a man named Hugh Morris who lives in London.
He claims that the US is "out of control" when it comes to tipping.
He may be right and though he was focusing on the very expensive New York City, this can apply to many areas of the country.
Make sure you understand every word you hear on All Ears English.

Bring your English to the advanced level with new vocabulary and natural expressions.

Subscribe and get the transcripts delivered by email.

Learn to speak naturally with the American accent.
Reflecting on Tipping Can Be Helpful
You may find yourself in doubt, and you're not alone in this.
The article has some really good points to consider where tipping is concerned.
He is told that tipping is NOT optional in NYC: This is a very expensive area and tipping here can make it an overwhelming experience for tourists. It can even be a lot to handle for natives who go out to eat and find that the bill is bad enough before the tip.

The minimum wage in NY is increasing, and it will be nearly as high as it is in London and there still isn't mandatory tipping in London. I didn't know this:::" By the end of 2018, the minimum wage for a tipped worker in New York will be $12.50, about £9.40, so just less than a pound short of the London living wage of £10.20 – "tip credits" in lieu of a cash wage can be used by employers to top up pay, but to a limit. "This is an interesting point.
It's confusing to know who to tip, because it seems like you have to tip everyone: You may feel like you have to tip your waiters, maids, bellhops, and just about anybody else providing some sort of service. It can be confusing to figure out who to tip and who you don't have to tip, as well as how much.
Places should pay workers more so they don't have to rely on tips: This is the overall point of the article, and something to really think about. If workers were paid more as their base then they wouldn't have to rely on tips so much. This would help workers and customers as well.
Some Helpful Tips on Tipping
You may find yourself feeling very confused when it comes to tipping, and that's normal.
There are a few things to keep in mind to make tipping a little easier.
You do want to consider this on a case by case scenario.
If you are unsure, then use these tips as a point of reference.
If the service really is bad, you are NOT obligated to tip.
If gratuity is automatically added, then you may be able to talk to a manager if the service wasn't great.
Always tip based on service–if it was good then you can aim for about 20% of the bill.
When in doubt, ask!
Try not to overthink it and just take it one experience at a time. It can be confusing, but even natives struggle with this frequently.
Takeaway
Don't worry if you find yourself feeling unsure when it comes to tipping.
Always consider the type of service that you received in making your decision.
You want to reward good service, and you may hold back if the service wasn't good.
If you feel unsure then ask, but do consider if you are in an expensive area or not.
Even natives struggle with tipping, so give yourself time to get used to it.
If you have any questions, please leave them below in the comments section.
We'll get back with you as soon as we can.