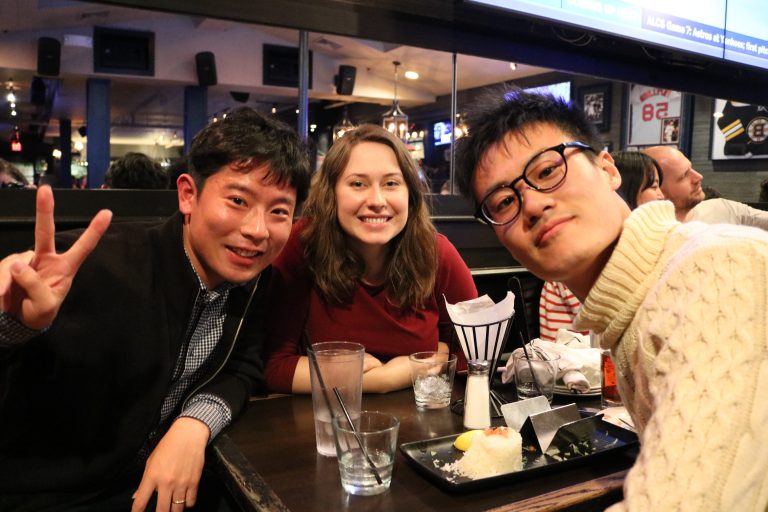 Today we have a fun interview with Alison who is a native speaker in our Urban Immersion Adventure program.
Find out why a safe space is crucial for moving your English up to the next level.
In our Urban Immersion Adventure Program, you spend at least 12 hours throughout the weekend directly in conversation and challenges with native speakers.
This is a unique part of our program that an average language school does not offer and it's why our program is fun and challenging!
Why did Alison join us in this program?
She has always enjoyed cultures. She connects easily with people from different parts of the world.
Even though there are barriers, there are always things we have in common.
Plus, she has had tons of international friends over the years.
What was Alison's favorite challenge?
In the first program in August Alison joined us for more of the social events like the Happy Hour or dinner with students.
She helped students with English in the restaurant setting.
In the second program in October Alison participated in more of the immersion activities.
Her favorite activity was the Drama Lab.
Why did she love it?
You have to be creative and it's an even playing field.
Natives work together with students and they create a 25-minute skit by the end of the Drama Lab.
It's fun! The personalities shine bright and she saw students make huge jumps in their fluency and confidence.
What advice do you have for students in the program when they speak with natives?
Try to be your own best friend instead of your worst critic.
Since you are in a safe zone, the native speakers want to be there as much as you do.
It can be hard to get out of your head.
Don't judge yourself and what you're saying.
Just speak and focus on connecting.
What advice do you have for students who are thinking about joining the program this summer?
Immersion in general is your best tool.
It will take you to the next level.
Boston is a welcoming city.
You can see all of it in four days.
Are you ready to apply to the Urban Immersion Adventure this summer?
Click here to apply now before spots fill up.