Are you an expert in any specific area?
Do you feel as though you have gained some excellent life experience and therefore are the person that people go to with questions?
This can be a really great conversation starter in English, to talk about your life experiences and things that have shaped you into the person that you are today.
We're going to look at how you talk about life experiences, why this is important, and how to get this conversation going and use it to help you make connections.
Get Your Transcripts Today!
Make sure you understand every word you hear on All Ears English.
Bring your English to the advanced level with new vocabulary and natural expressions.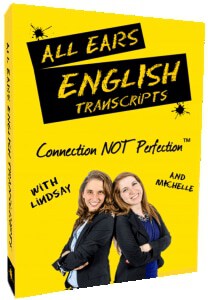 Subscribe and get the transcripts delivered by email.
Learn to speak naturally with the American accent.
Click here to subscribe and save 50%
We have a question today from Nelson who mentions a character from Star Wars.
Hi Lindsay, Michelle and AEE team,

I'm Nelson from Brazil, and I really appreciate your show! It's fun and informative, and it even gives me a good bit of energy to take my mornings to the next level. I have a question about expressing certain experiences.

I'd really like to know why and how we can express the life experiences we had that shaped our personality and our view of life. Do you guys consider yourself a veteran or a Yoda in something?

Let me know what you guys think of this topic and how to express these things. I really appreciate you guys!

Hugs from Brazil,

Nelson de Jesus
Looking At This Reference
This is a great question as it calls into play an example from a classic movie that has only gained in popularity through the years.
In the example, the listener mentions Yoda, and this is a character in Star Wars.
We also use Yoda to talk about someone who is really smart about something–maybe an expert of sorts who has a lot of knowledge.
You may have heard it used in other ways as well, but these are the two most common examples.
You might say something like "I'm a Yoda when it comes to…. Knitting!"
This is a good example of how this could go, though you might not hear that in conversation too often.
You could also talk about somebody being a veteran, as this also speaks of someone who knows a lot about something through experience.
Typically somebody with this experience who is called a veteran tends to be very well respected.
You might think of the military with this term too as that is used a lot in this area.
You might say something like "He's a veteran of this place. He'll show you the ropes."
So it's not necessarily just about being an expert, for it's also about having life experiences.
It's about living life, really living through something specific or challenging, and gaining some powerful experience from that.
You want to know how to talk about that experience or those pivotal moments, but you may find it helpful to talk about being an expert at something too.
We have done these episodes to talk about being an expert, and you want to check these out so you have this background.
Are You An English Connoisseur? Find Out Today
How To Be The Queen of Banter In English
These will be helpful for you to check out and use when it comes to this subject area overall.
Phrases To Express Life Experiences
So part of the question from our listener is about how to express different life experiences.
As a matter of fact, the question was fantastic as it was specifically about how to express "the life experiences we had that shaped our personality and our view of life."
Here we look at a few examples of phrases that you can use to describe such life experience in a great conversational way.
X made me who I am/is a huge part of who I am: This is a great one if you want to give credit to somebody or something that shaped your life. This experience or this person may have really made a great impact on your life in some way. You want to pay homage to this life changing experience or person in a special way. You could say "My mom made me who I am." You may hear something like "My time abroad made me who I am."
X shaped me: This is the same sort of idea, and it's very similar. You could use these two phrases interchangeably because they mean basically the same thing. You are recognizing that this one thing or one person had an impact on you and made you who you are today. You could say "My experience volunteering abroad really shaped me."
X is so much a part of who I am today: This is acknowledging something, often from your youth, that transformed you into the person that you are today. Something happened when you were younger that helped you to be the person that you are now. You might say "My grandmother is so much a part of who I am today."
I am where I am today because….. : This is another way to say that you got to this current place in life because of this experience. There was something pivotal that occurred which made this all possible. You could say "I am where I am today because I worked hard and looked at every challenge as an opportunity."
I wouldn't be here/somewhere if………..: This is showing what that big "if" is in your life. You might think of the other scenario of what would have happened if this hadn't occurred in your past. But because of this person or thing, you are here where you are meant to be. You might hear "I wouldn't be here if my best friend hadn't encouraged me to look into my first job posting."
A life altering/changing experience: This is exactly what it says it is, and it's a very literal meaning. This is to say that this one moment, this one person, this one experience changed the path or the course of your life. This helped you to be who you are and it had an impact that is often immeasurable. It changed your life and so you could say "My time working at the hospital was a life altering experience."
There are some great conversational questions that you could use surrounding these phrases.
These can help you to get a good conversation going, allow you to reflect, and this can all lead to great connections.
Try out these questions and see how they can take your conversation to another level.
What is a life altering experience you can remember?
Who is someone who shaped you?
Who or what is a huge part of who you are?
Roleplay To Help
In this roleplay, Lindsay and Michelle are reminiscing after running into each other after 10 years of not seeing each other.
Lindsay: "So how have you been?"
Michelle: "I'm good! I have to tell you
Lindsay: "I wouldn't be at my current job if you hadn't encouraged me all those years ago to pursue my dreams."
Lindsay: "Wow, I'm so happy to hear that! It was really our teacher, Mr. Smith who made me who I am. He was the one who told me to encourage you!"
Michelle: "Well, I can tell you, his class was certainly a life altering experience."
Lindsay: "I agree. That class definitely shaped me."
Takeaway
It is so important to talk about yourself and your journey in order to connect with others.
This was an excellent question as it served as a springboard to talk about this important area.
We can learn so much about ourselves and each other from talking about these experiences.
Don't be afraid to talk about yourself, for there are always important areas of your life to discuss with others.
This makes for a great topic of conversation, and it can lead to lasting connections.
If you have any questions, please leave them below in the comments section.
We'll get back to you as soon as we can.