Today, Sondos and George join us on the podcast!
They will model IELTS Speaking practice with a partner.
Listen to their sample answers and feedback.
This will help you know how to study with a friend.
Your study partner does not have to be a native speaker!
Today you'll see an example of how to study with a non-native speaker.
We'll teach you what to listen for and how to give feedback like an IELTS Examiner!
Meet our guests!
Sondos and George are both students in the 3 Keys IELTS course.
Sondos is originally from Jordan, and now lives in Saudi Arabia.
She works as a freelancer and is studying to be a quality assurance consultant.
George is from China and works as a research assistant.
They are here on the podcast today to model IELTS Speaking practice with a partner!
How to study with a partner
Jessica and Aubrey recently shared strategies to work with a study partner.
When practicing IELTS Speaking, you can be the Examiner for each other.
There are specific things to listen for.
This is not a time to focus on grammar.
Instead, give feedback for the other 3 scoring sections.
Vocabulary
Pronunciation
Fluency/Coherence
These are the scoring sections Sondos and George will use today to give feedback.
#1: Vocabulary
Listen to the vocabulary they use.
Are their answers using high level, less common words?
Do they use slang, idioms and phrasal verbs?
For IELTS Speaking, you must have a variety of vocabulary to score 7+ on the Vocab score.
This means using more informal vocabulary and phrases for Speaking Parts 1 and 2.
If the answers are personal, you should hear informal vocabulary.
Strategies Created By a Former Examiner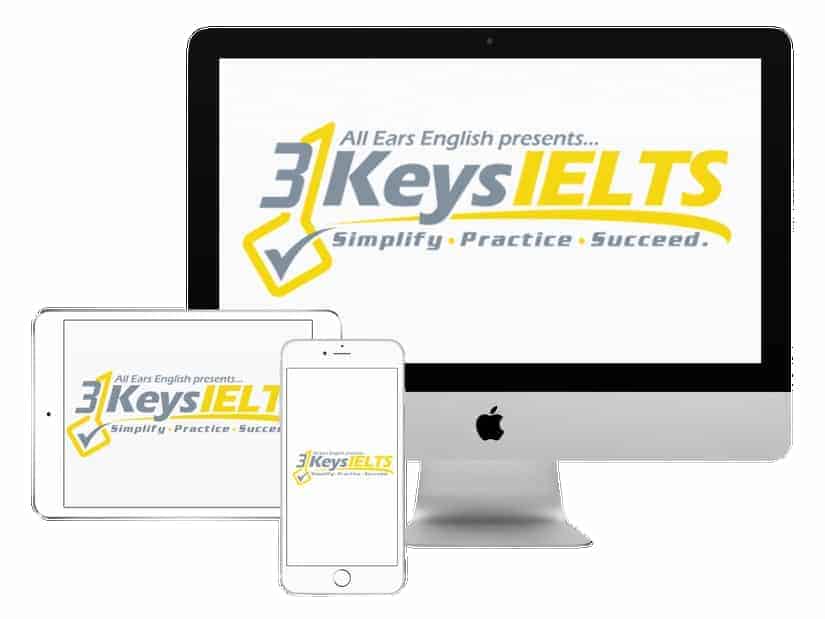 100% Score Increase Guarantee with our Insider Method

Are you ready to move past IELTS and move forward with your life vision?

Find out why our strategies are the most powerful in the IELTS world.

When you use our Insider Method you avoid the BIGGEST MISTAKES that most students make on IELTS.

Click here to get a score increase on IELTS. It's 100% guaranteed.
#2: Pronunciation
Can you understand what they say?
Are words and sounds clear?
Are they using varied intonation?
Can you hear emotion?
You must have native intonation for 7+.
You can't use a monotone!
#3: Fluency/Coherence
Are there pauses and hesitation?
Does it seem like they're having trouble thinking of vocabulary or deciding what to say next?
Do they have quite a bit to say on any topic, or are they giving short answers?
Are they using linking phrases?
You must use a variety of linking phrases for IELTS Speaking for 7+ on the Fluency/Coherence score.
#1: George's questions: Weather
What's your favorite kind of weather?
George provides some details about his preferred temperature.
He doesn't like it when it gets too hot!
Is there any type of weather you don't like?
He shares that he doesn't like rainy days.
This is because he wants to go outside and enjoy leisure time with friends.
If it's rainy, he has to stay home and watch boring TV shows!
Sondos's feedback
She shares that George did not have pauses and hesitation.
He used some good vocabulary, but she did not hear slang or idioms.
He missed opportunities to throw in interesting adjectives and adverbs.
It's excruciatingly hot!

It's ridiculously uncomfortable when it gets that hot!
His pronunciation was good, but he could use more variety of intonation.
I detest the rain! I really hate sitting inside bored!
#2: Sondos' questions: Family
Do you have a large extended family?
She shares how many family members she has.
What do you do together with your family?
Her answer includes special events with family.
She shares that they eat together and have activities.
George's feedback
He shares that she used high level vocabulary.
However, she paused while thinking of vocab and her answer.
He also shared that she could use more emotion.
She needed more variety of intonation.
This is easier if you share details!
Sharing fond memories will help you feel excited and use native intonation.
In this case, the Examiner needs to hear more details.
What types of activities does she do with her family?
What types of food do they eat?
Why do you need a study partner?
Notice they also shared the positive aspects.
They told each other what they're doing well.
You should definitely do this to encourage and motivate your study partner!
However, you also need to share the gaps you notice.
When speaking in a mirror, you often don't notice these mistakes.
A study partner can much more easily help you see how you can improve.
It also makes you more accountable!
If you have set a time to study with a partner, you will keep that appointment.
If you were planning to study on your own, you might find something else to do!
Give constructive feedback
It's not helpful to say, "That was great!" or "That could be better."
It should be directly aligned to the scoring system.
What specifically should they improve?
How is it going to help their score?
Don't focus on grammar!
Instead, help them improve these other 3 scores.
Vocabulary
Pronunciation
Fluency/Coherence
Takeaway
There are so many reasons to study with a partner!
It keeps engagement and motivation up!
It also holds you accountable.
You can definitely study with a non-native speaker.
Use today's tips to make your IELTS Speaking practice as helpful as possible!
If you don't have a speaking partner, find on in the 3 Keys IELTS Facebook group!
This is an incredibly supportive community where you can find a study partner.
You can also ask any question about IELTS and get answers right away!
What questions do you have from today's episode?
Please leave a comment below.