Today you'll learn native idioms that will make the Examiner pleased as punch!
Listen today to find out where to use them on the IELTS exam!
We want to congratulate 3 Keys IELTS student Jenny who posted in our Facebook group that she got the Overall 7 she needed!
If you want to know what score you'd get if you took IELTS today, take our free, 2-minute quiz!
Today's question
Victoribarra80 commented on the All Ears English Instagram:
The other day I was watching ABC News and I hear this phrase, "we pulled no punches." I don't know exactly what it means, could you please clarify this for me.
Ironically, Jessica and Lindsay actually just recorded an All Ears English episode answering this question!
Look for that in Episode 1465, which will be released Nov. 5.
However, there are so many idioms with the word "punch!"
Today we'll share 4 of the most common.
Why do you need to use idioms on IELTS?
Idiomatic language is in the scoring rubric.
The Examiner has to hear some idiomatic language in order to give you a 7 or higher for Vocabulary.
You must use them accurately and they must make sense in the context of your answer.
Strategies Created By a Former Examiner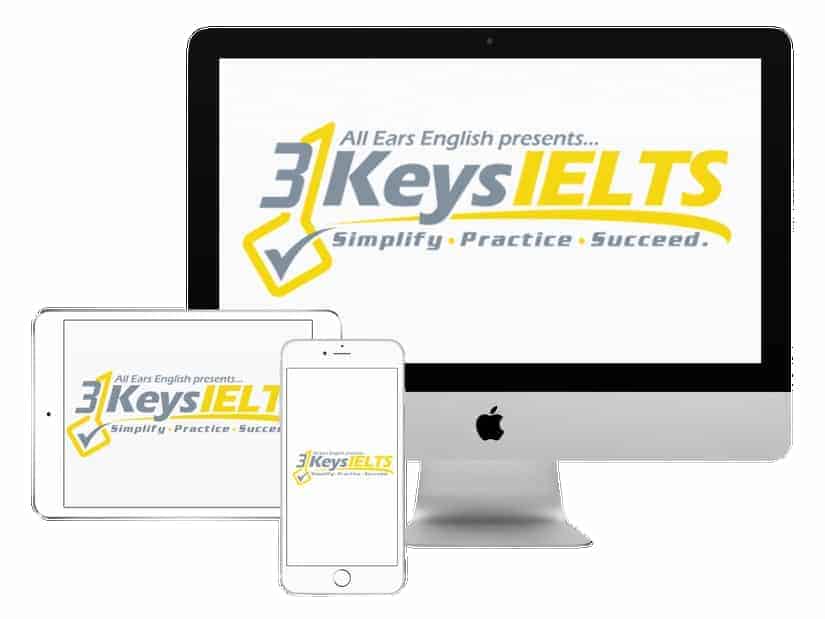 100% Score Increase Guarantee with our Insider Method

Are you ready to move past IELTS and move forward with your life vision?

Find out why our strategies are the most powerful in the IELTS world.

When you use our Insider Method you avoid the BIGGEST MISTAKES that most students make on IELTS.

Click here to get a score increase on IELTS. It's 100% guaranteed.
#1: Beat someone to the punch
This sounds extremely violent, but it's not.
It means to be the first person to do something or get something.
If you are planning to take the IELTS exam, and you take it before a friend, you can say:
I beat her to the punch!
We often teach Personal Coach classes to students who are married.
They're always trying to beat each other to the punch when it comes to their IELTS exam.
#2: Pleased as punch
This is applicable all over the exam.
We are always telling students they need to use more interesting adjectives.
This is the best way to boost your Vocabulary score!
Instead of saying, "I enjoy…" or "I like…" say "I am pleased as punch…"
You can also use it at the beginning of a Speaking Part 1 question.
I am pleased as punch you asked that, because I have so much fun with friends.
It's perfect for introducing Speaking Part 2 answers as well!
I am pleased as punch I got this topic card, because I love to travel!
#3: Roll with the punches
This idiom comes from boxing, and is referring to someone moving out of the way so they don't get punched.
We use it to mean not getting bothered when things are going poorly.
A parallel is "going with the flow."
It has an extra connotation of what we do when things are difficult.
In 2020, we're all having to roll with the punches.
If answering a question about something that didn't go well, you could say:
I was able to roll with the punches!
#4: To be a punching bag
This idiom is also related to boxing, as boxers work out using a punching bag.
You can be a punching bag if someone is venting their anger or frustration on you.
On the All Ears English podcast, Jessica and Lindsay are doing a series on memes and internet behaviors.
In Episode 1445, they talk about trolling and celebrity "punching bags," which are people everyone loves to hate!
Use this on IELTS anytime you're describing a difficult situation.
I felt like life was using me as a punching bag!
Takeaway
You must use idiomatic language on IELTS to score 7 or higher on Vocabulary.
Practice using today's idioms in the correct context.
They will help you sound native and natural!
For all the strategies you need, sign up for 3 Keys IELTS.
And to get your estimated band score, take our free, 2-minute quiz today!
What questions do you have from today's episode?
Please leave a comment below.