3 Keys student Karen joins us today.
She shares the strategies that helped her get 7.5 on IELTS Speaking and 7 on IELTS Writing.
You'll find out how she persevered on the Speaking exam in spite of having to wear a mask.
She was confident on test day and knew she would do well because she was prepared!
Listen in to get the strategies you need for a 7 or higher on IELTS.
Why is Karen taking IELTS?
She wants to open possible opportunities!
IELTS exam results are taken seriously all over the world.
She knows that if she scores highly, she'll be able to apply to work abroad.
Additionally, she wants to apply for Canadian residency.
Her goal is to work in an English-speaking environment.
What was IELTS test day like?
Her Speaking test was the day before the rest of her exam.
She thought she would be able to remove her mask for the exam.
A friend had told her she was able to.
However, she discovered that she couldn't.
She did not the mask distract her!
She had practiced with a mask on and knew to speak up and be energetic.
What scores did she receive?
Overall: 7.5
Listening: 8
Reading: 7
Writing: 7
Speaking: 7.5
Strategies Created by a Former IELTS Examiner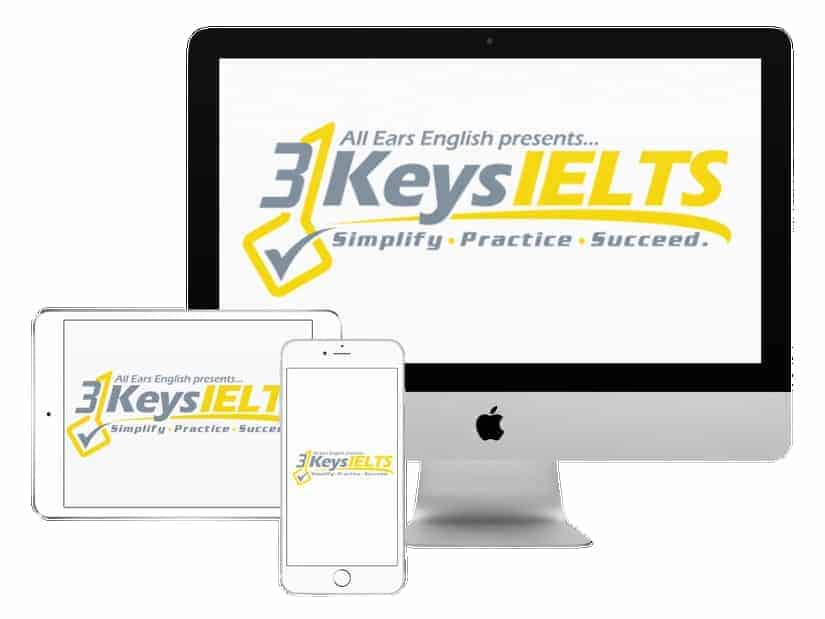 100% Score Increase Guarantee with our Insider Method

Are you ready to move past IELTS and move forward with your life vision?

Find out why our strategies are the most powerful in the IELTS world.

When you use our Insider Method you avoid the BIGGEST MISTAKES that most students make on IELTS.

Click here to get a score increase on IELTS. It's 100% guaranteed.
English is a lifelong journey
Karen plans to continue using what she learned in 3 Keys IELTS.
She is excited to continue improving her English.
Reading the newspaper
Listening to podcasts made for natives
Her journey is not over because she got the scores she needs!
How did she improve her Writing score?
She memorized the 3 Keys IELTS Writing templates.
The strategies she learned felt like tools and weapons.
She felt ready for war!
She was ready to conquer IELTS!
Feeling that level of confidence was extremely empowering!
How did the templates help her?
It took a lot of the guesswork out of it.
They provide high level vocabulary and transitions.
It gives you a framework for your essay.
Then you just have to fill them in with your ideas.
The structure of your essay is done for you.
If you don't have templates like this, get into 3 Keys IELTS!
Tips for IELTS Writing
Don't be afraid to make up stories!
Her Task 1 Letter topic asked her to describe something she had never experienced.
She did not hesitate to invent details and create a story.
Keep in mind that the IELTS Examiner doesn't care if you're telling the truth.
They are just listening to see how fluent you are.
Avoid pauses and hesitation by making up a story if you don't have one!
Takeaway
You need to be ready for anything that might be thrown at you on test day!
Karen was 100% confident because she knew she had all the insider Examiner information about the test.
She also knew she was ready because she had strategies!
This confidence is key to success on exam day.
Go in knowing you will do well!
If you lack that confidence, sign up for 3 Keys IELTS and get all the strategies you need to succeed!
What questions do you have from today's episode?
Please leave a comment below.