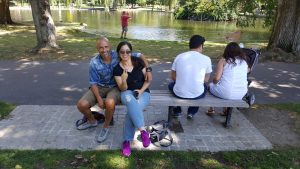 Today you'll meet Katia who participated in the Boston English Adventure in August.
She'll tell us why she pushed her limits, challenged herself, and decided to come join the program in Boston.
You'll also hear how it felt to finally realize that native speakers really did understand her.
Why did Katia decide to apply to this program?
She had been listening to our podcast.
She heard about the applications and thought that it would be a great way to push her limits and see how much she could understand from native speakers and how much she could speak.
Was there anything that she was worried about before she applied?
She was worried that people wouldn't understand her accent. She knew that sometimes she forgot English words too.
However, when she joined our program she was surprised that people understood her well.
She even understood everything she heard during the Telephone Game in the Drama Lab.
We did this game with our native conversation partners and she felt confident when she realized that she could understand everything on the phone.
After the program she explored Boston and local people understood her. What an incredible feeling!
What other challenges did she enjoy?
She also enjoyed the Neighborhood Challenge where she and a partner had to go out and talk to local shopkeepers and cafe owners.
She loved the Drama Lab.
Why?
This was an opportunity to not only speak with new words but to speak with body language and express emotions, points of view, and ideas.
What did she learn from it?
She learned how to express herself using her voice.
Applications are still open for the next Adventure program October 19-22.