Do you ever feel like you don't have time to talk to people on the phone?
Are you ever worried how you come off when you cut a conversation short in English?
Do you know how to handle this situation so that there are no hurt feelings?
Knowing what to say in this situation can really be important.
We're going to walk you through why phone etiquette matters, and how to show that you care even when you don't have time to chat on the phone.
Here's a letter that talks about this very situation.
Hi Lindsay,

Being a new mom, my exchanges have gotten much shorter. My long phone conversations are a thing of the past because I often need to get off the phone quickly or know that I can't talk for very long.

However, I still love talking to people when I get the chance. Everyone has been very understanding, but there's certain language to use that helps people understand that you can't talk for very long. I can't just say "okay sorry bye". Though I could and people would understand, but it's not like me to talk like that.

Do you have any suggestions about how to handle these situations?

Thank you very much!
Get Your Transcripts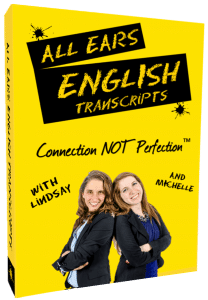 Make sure you understand every word you hear on All Ears English.
Bring your English to the advanced level with new vocabulary and natural expressions.
Get the transcripts from today's episode.
Learn to speak naturally with the American accent.
Click here to subscribe to the transcripts and save 50%
Knowing The Right Things To Say Can Help A Lot
Phone etiquette is so important, and people often don't realize that!
So what can I say?
Below are some phrases you can use when you know you don't have a long time to talk.
When you start the conversation:
Step 1: Express your excitement to talk so that they know that you care. This comes through really well and sets the right tone.
Step 2: Explain what may happen over the course of the call so that they are prepared. This shows concern and is a very honest depiction of what may happen while the two of you are talking.
"I'm so happy to talk. I just have to warn you, I may have to jump off in a sec because….(I'm about to run into the store to grab stufff for dinner)"
"Great to hear from you! I can only talk for a few minutes because……,(example–I'm waiting for a call from my boss) but let's talk until I have to go!"
"I'm so happy to hear from you! Just a heads up that the kids are acting up and I may have to cut things short."
When you have to get off the phone:
Apologize and be honest and sincere
Explain why you have to get off the phone so that they understand
Make a plan if possible to talk later or call back so that you show continued interest
"Sorry I gotta run now. (explanation–example, the baby just started crying)–can we talk later?"
"Oh man, I have to go. (explanation–example, my boss is calling)."
"Can I call you back in _____? Explanation— (you can't always call back so only say this if that's what you really intend)"
"I'm so sorry that I can't talk right now, but I want to finish this conversation later today."
Remember Why This Is Important
In these situations, think about your relationship with the person.
Will they understand your situation and reason for not being able to talk?
Do they want a long phone call?
Are they a friend you can just talk to for 5 minutes or is it someone you haven't talked to in a while who needs an hour of your time?
Take these things into consideration as you work through proper phone etiquette and know how to make the other person feel important.
Takeaway
Phone etiquette is important for your relationships both in the workplace and in your personal life.
People are understanding, but you want to give them a heads up if you can't talk for long.
It's important to be transparent and offer explanations–you don't have to give away your life story, but a short explanation will go a long way!
We all have interruptions and distractions, but knowing how to handle phone etiquette properly is always important.
If you have any questions, please leave them below in the comments section.
We'll get back to you as soon as we can.