Have you ever wanted to use flexibility when you talk about time or values in English?
Have you heard somebody use the phrase "give or take"?
This is a phrase that can be used to discuss flexibility and it has many important uses in English.
We're going to show you what the phrase "give or take" means and some great ways to use it appropriately.
We have a listener question about this that may be very helpful in determining when and how to use it.
Get Your Transcripts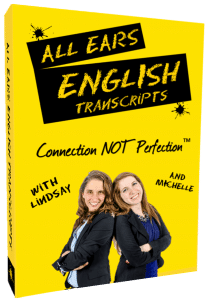 Make sure you understand every word you hear on All Ears English.

Bring your English to the advanced level with new vocabulary and natural expressions.

Get the transcripts from today's episode.

Learn to speak naturally with the American accent.
You just answered one of my questions–thank you very much for your help!

Can I ask you one more question? Last week I went to see a doctor and he told me that I would get my blood test results "give or take in a few hours". I noticed the word "give or take" , and I haven't used it before. I think it means approximately, is that right?

Could you please give me an example of how to use it, and also some words that I can use in the same way.

Thanks again and hope you enjoy spring and summer time.
Breaking It Down
Today's episode is all about flexibility!
Our listener is right–it means approximately or about.
So in this example about flexibility, it's about not being exact.
This has to do with flexibility which can be very common within American culture.
So what did the doctor mean?
In this example, the doctor meant that the blood test results would be in AROUND a few hours.
He doesn't know for sure the exact amount of time, so this is a "guesstimate."
This is useful for a doctor because testing can take different amounts of time depending on what it is and how the results get to the patient.
Other Ways To Use It
When else could you use this?
Just remember–it's a casual sounding phrase and it indicates a bit of uncertainty or flexibility.
You also want to be sure not to use it unless you are sure that the approximation or flexibility is okay with the person you are talking to.
You don't want to use this sort of phrase or approach when you are dealing with an important deadline.
There are some other great uses for the phrase "give or take" and these can be helpful to know.
To talk about when you will arrive somewhere: You know that you are planning to be somewhere at a certain time frame, but you may be a few minutes early or late. So you might say "I'll be there in five minutes, give or take."
To talk about how much you want to spend: You know that you are planning to spend some money, but you may not know the exact amount at the moment. So you might be talking about a budget or anticipated spend, but you are waiting on the exact amount. You might say "I'm planning to spend around $10,000 on a new car."
To talk about when you plan to do something: You may have a plan but don't have specifics nailed down just yet. You may be waiting to finalize things or holding out for more information or details. You might say "We're planning to move to the suburbs next spring or summer, give or take."
To talk about when you may finish something: This may have to do with a longer term project or something that you are planning to finish at some point in time. You may be working on something with no true deadline established. You might say "The report will be finished by next Tuesday or Wednesday, give or take."
These are great ways to use this phrase, and can help to indicate flexibility in situations that warrant it.
Takeaway
There are many times when you can use this phrase.
It is very relevant to daily life, and so you can find many different uses for it.
The only thing to remember is when to use it with and who to use it with.
This phrase is VERY helpful and dynamic and sounds casual and relaxing.
Try to use it today and see how it can fit into many different conversations and with various levels of connections!
If you have any questions, please leave them below in the comments section.
We'll get back to you as soon as we can.