When you travel, can it be difficult to order food when you are unfamiliar with the kind of food it is?
Do you want to know more about common foods in the US so you can order them in English?
Food is such an important part of a culture, and it can be a significant part of conversation too.
We're going to focus on pizza today since it's such a common food eaten in the US, and you will learn a lot of the vocabulary and thoughts around it.
Get Your Transcripts Today!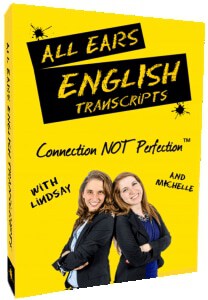 Make sure you understand every word you hear on All Ears English.
Bring your English to the advanced level with new vocabulary and natural expressions.
Subscribe and get the transcripts delivered by email.
Learn to speak naturally with the American accent.
Click here to subscribe and save 50%
We have a listener question about specific kinds of foods that may be very helpful to you.
Hi ladies,

I'm hoping that I can get your help with how to order handmade pizza or even hamburgers in the US. I remember the first time I ordered pizza in a restaurant, there were so many options to choose from. There were different crusts, ingredients, sauces, and toppings that I was shocked. I didn't know how to choose!

I had another similar experience trying to order a burger at Five Guys. I think one problem is that I am not familiar with the ordering process at all. The other problem is that I don't know each ingredient, such as all the different types of cheeses. Sometimes it turns out to be a weird flavor that I create, and I can see that from the surprised face of the waiter. I often don't even recognize the vocabulary on the menu, and so it gets very confusing. Mexican food is another story, and I find it so complicated. I can't even recognize any of the vocabulary on the menu.

I like to try different kinds of food, but when I need time to check every item it becomes overwhelming. I feel a lot of pressure, especially if other people are waiting in line. If you can teach me more about this and show me how to deal with this, it would be awesome.

Best wishes,

Andrew
Looking At Some Background on Food
This is a great question and it really helps you to think about something important.
So much of the culture is centered on food and food related issues, and so you want to know how to talk about it.
We've talked about food quite a bit on the show in the past, and some of these episodes can be helpful to give you some background.
We have talked about food a lot on this show, but it never gets old!
Who doesn't love learning about food?
It's so important because it's such a common part of the culture and a big topic of conversation.
Today we will stick with pizza as the food we're going to focus on, and give you some tips on learning about new foods.
We'll get into some of the details mentioned in the listeners questions, and so much more.
Pizza is a very common part of culture in the US, so learning about it and how to talk about it can be quite helpful.
Learning and Talking About Pizza
Pizza is such a common food in the US, and you could say it's even a part of the culture.
There are many kinds of pizzas around the US, and you might be surprised at just how extensive this list is.
You want to look at some of the favorite types and how you might order them in a restaurant.
Not only does this help to introduce you to a very common part of the culture, but it also gives you insight into a food you might enjoy.
Once you know how to order pizza in the various ways, then you can make this a part of your routine.
You will find that this can also be a significant part of conversation too, so let's take a look at what you need to know about pizza.
Deep dish: This is famous in Chicago and it's a part of their culture in the city. This is a very thick pizza that is doughy and full of flavor. You might only be able to eat one piece since it's so thick and substantial. You will find that people in Chicago love their deep dish pizza!
Thin crust: This is the other end of the spectrum where the crust is very thin. You might even be able to eat an entire thin crust pizza because it's lighter. This is a preference for many in the US, and you will hear that it's the most authentic to what you would get in Italy.
Grandma slice square: This is a common type of pizza that you will see a lot in NYC. It's a thin crust pizza that is square, and thought to be very authentic to that you would get in Italy. It is typically heavy on cheese and tomatoes, and it might not even have a typical tomato sauce. It's a unique option known in this part of the country.
NY-famous: This is what you would grab and eat on the go in NYC. It's typically a huge piece of pizza that is loaded with cheese and thin crust. Many people take that huge slice of pizza to go and fold it in half to eat as they move.
White pizza: This is a type of pizza made without any tomato sauce at all. It is made with cheese and may even have a white cream sauce sometimes like an Alfredo. It is heavy on cheese and herbs, but never has a tomato sauce.
Some people call pizza a pizza pie, but that's not as common anymore.
There are some typical toppings that you may expect to order on your pizza which are important to know about too.
You can almost always expect to find pepperoni, sausage, mushrooms, green peppers, olive, onion, and even pineapple.
There may be plenty of other options available, but those are the most common toppings you can expect to find on any pizza menu.
How you eat the pizza depends on the type it is and where you live, as some people in NYC may fold the slice and go.
You can find pizza almost anywhere you go and so if you know how to order it and enjoy it, this can help you to feel like a native.
Practicing With Other Foods
We have given you some pizza vocabulary today, which is a great starting point.
There are ways to use this information with other foods too.
This is a good way to practice and to talk about something that we all do and enjoy–eating good food!
Here's something to consider when it comes to other foods.
Look up pictures: Try to Google photos of various foods that you might enjoy. You can also find travel videos of people trying new foods. This is a great way to learn a bit more about the culture and the foods that people eat. Then you can see what the foods are and how to order them when you dine out.
Find menus: Take the time to look up menus at restaurants around you. Then read the descriptions of foods that you might like, and practice with a friend.This will prepare you for the dining out experience and ensure that you know what to order too.
Try making your own: This is a great way to memorize and make a dish that you may really come to enjoy. Try to use a cookbook or watch a YouTube video for a point of reference. You might find some great recipes or meal ideas. In the process you will learn a lot about new foods and part of the culture.
Take a cooking class: This is taking your cooking experience to the next level. Find a good cooking class online or locally and sign up for it. You could even join or host a cooking club to try new dishes.
Be an adventurous eater : Sometimes you have to get outside of your normal routine when it comes to eating. If you try new foods and get a bit adventurous, you might discover some really great things. This also happens to make for a great topic of conversation.
You can do so much with new foods, and it gives you a lot to talk about.
Try these ideas out to become more well versed at eating new foods, and knowing how to talk about them as a way of connecting.
Takeaway
Find ways to learn about different foods, and don't be intimidated.
Find ways to learn and have fun at the same time with food because it's an enjoyable cultural lesson.
Everyone loves to talk about food, so learning more is a huge help.
This is a great way to connect and have great conversations, because food is a common topic that all can share in.
We can do more episodes on food, because as you will see this is a common topic that you will really come to appreciate and enjoy talking about.
If you have any questions, please leave them below in the comments section.
We'll get back to you as soon as we can.