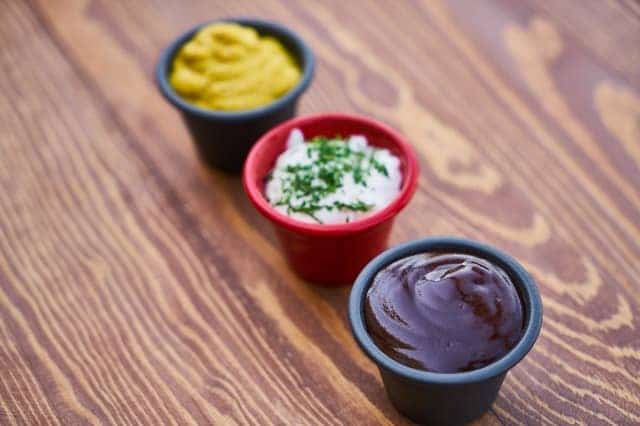 Have you ever heard all of the sauce choices at an American restaurant?
Do you ever wish that you know how to order these sauces in English?
When you go into a fast food restaurant it can be a little intimidating because things are moving so quickly.
In this English tutorial podcast lesson, we're going to look at what some of the most popular sauces are, which ones you might like to try, and how to order them.
Get Your Transcripts Today!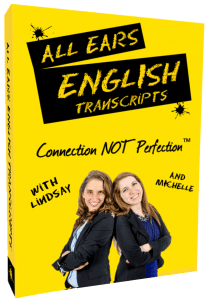 Make sure you understand every word you hear on All Ears English.
Bring your English to the advanced level with new vocabulary and natural expressions.
Subscribe and get the transcripts delivered by email.
Learn to speak naturally with the American accent.
Click here to subscribe and save 50%
Today we have a really great question about dips/sauces/spices.
Hi ladies,

I love your show! I am hoping you can help me with a specific issue I am having. I find ordering food in the US to be very challenging. There are so many kinds of spices, sauces, and different types of food that it can be very confusing. I also find that many of the names of these foods are likely from another country so they are possibly Spanish, Italian or French. It seems to be a breeze for Americans, but it's really tough for me.

There have been quite a few times that I couldn't understand what the staff in a fast food restaurant was speaking. They speak fast, and then they asked me about different sauces or add-ons. I get so confused and I'm really hoping you can help me somehow. This is an area that I want to improve upon, so any help you can offer is much appreciated.

Thank you for your help,

Sunjevon
Breaking Down The Choices
This is a common question that comes up among students quite often.
Because America is such a melting pot, sometimes we use words that are not English because the dips are not from the US.
It would be hard to go through everything, so we will go over some common ones so that you have a basic understanding.
This is a good starting point so that you know what to work through.
This will help you to order, to understand some of the choices you may have, and also to potentially experiment with new tastes.
Though there is much we can talk about where food is concerned, we are focusing on dips/sauces here.
We'll look at what some of the common sauces are, how you might use them, what they may taste like, and so on.
Try new things, both in what you eat and in how you order using new English terms like these.
Looking At Common Sauces
Though sauces for the foods you eat may not sound like much, these can be a great learning experience.
You want to learn about some of the most common sauces, how they are used, what they taste like, and why people might like them.
Once you have this background information, you can order the sauces that you like best.
Guacamole: This is a common dip or spread that is often used and associated with Mexican food. It's a delicious dip that features avocado, fresh lime juice, and often tomatoes and onions, with seasoning. It's very popular in America beyond just Mexican food.
Salsa: This is also associated with Mexican cuisine, and it comes in many varieties. It's usually made with tomatoes, peppers, and onions, and it can be either smooth or chunky. You can find in other varieties, and it ranges from mile to very spicy.
Pico de Gallo: This is similar to salsa, but it is often chunkier and thicker. It often has jalapenos and so it's usually quite spicy, and it's something you would use on tacos, burritos, and other Mexican food.
Sriracha: This is a hot sauce that is very popular. You might see this used with Asian food, but it has become so popular that people use it on just about everything.
Hummus: This is a dip and spread associated with Mediterranean food that has become very popular. It's made with chickpeas, lemon juice, and spices, and it's very healthy and delicious.
Honey mustard: This is a sweeter mustard that is used on so many different things. It's a good dipping sauce, but it's also something added to a dish like chicken for a distinct flavor.
Buffalo sauce: This is a spicier sauce that started with the original buffalo chicken wings. Now it is used on so many dishes beyond just buffalo wings, because people love the spice and the flavor.
Ranch: This is by far one of the most popular sauces in the US. This is a creamy sauce that started off as a salad dressing. It is now used as a dipping sauce, to add flavor to dishes, and so much more.
There are many more sauces, but these are some of the most popular ones to know.
Things To Remember At These Spots
When you go into a fast food restaurant or you are ordering these sauces, there are a couple of things to keep in mind.
If you can remember these tips, they can help you to order with confidence.
Then you are sure to order what you like and try some new sauces and new vocabulary at the same time.
Fast food restaurants are fast, but you can still get what you want: Yes fast food restaurants move quickly, but don't be afraid to ask what something is. Even though the pace is fast, that doesn't mean that you can't still get what you want. Don't let the pace intimidate you, and be confident to ask questions and order what you want. Some questions you could ask include: "What is that sauce/dip?" "What goes best with my meal?" "I've never had that before. What does it taste like?" "Is it spicy?" "Can I get/substitute _____ instead?"
Things they may be asking you at a fast food restaurant: Be prepared for the types of questions you might get asked. Just as important as what you want to ask are the questions you might be asked. You might hear questions like: "Which kind of dipping sauce do you want?" or "Do you want _____ sauce?"
Knowing what to expect when you walk into these restaurants can help you tremendously when you go to place your order.
Roleplay To Help
Since this is such a common scenario and source of confusion, a roleplay may be very helpful.
In this roleplay, Lindsay is ordering from Michelle's fast food restaurant.
Lindsay: "So I'll take the turkey sandwich. But what is sriracha?"
Michelle: "Oh it's a sauce that comes on top of it. Do you want sriracha or no?"
Lindsay: "Um. Maybe. Is it spicy?"
Michelle: "Very spicy."
Lindsay: "Okay never mind. Can I get hummus instead?"
Michelle: "Yes."
Takeaway
It can be intimidating to ask someone to explain something, especially at a fast food restaurant.
It can be particularly hard at a fast food restaurant because the workers are often busy, and you may not want to bother them with a question.
Don't shy away from asking so that you know what you are ordering and trying.
Try as many new sauces as you can!
Look at menus of places you want to try and practice pronouncing the words–this is a fun way to try a new food and to practice your English too.
Want to learn more? Go here to listen to an episode about the typical American diner.
If you have any questions, please leave them below in the comments section.
We'll get back to you as soon as we can.