Do you talk much on the phone, or are you more of a texter/emailer?
Who do you call when you do pick up the phone?
There is a lot of thought that goes into phone conversations and etiquette, and we're going to look at that today.
You want to know how to talk through phone conversations, and so having the right words and phrases can help you to do that and to build confidence.
Today we are looking at some of the phrasal verbs that you may use in a phone conversation, and you want to learn these so you can start using them in yours.
Get Your Transcripts Today!
Make sure you understand every word you hear on All Ears English.
Bring your English to the advanced level with new vocabulary and natural expressions.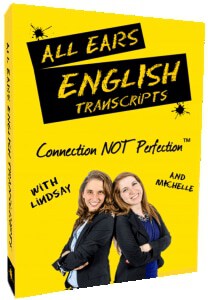 Subscribe and get the transcripts delivered by email.
Learn to speak naturally with the American accent.
Click here to subscribe and save 50%
The Dynamic Of The Phone Conversation
The idea of the phone call taking place is really evolving.
In the past, we'd have called someone for matters or issues that we wouldn't now.
A phone call often indicates something is important or urgent.
It is usually more of a time commitment, and so a lot of people don't choose to engage in them often.
You may make phone calls more for professional reasons, or you may save them for when you really need to talk to somebody rather than text.
Things like the Marco Polo app are replacing phone calls, and sometimes a text will do the trick.
The reality is though that In our last episode in our series, we talked about phrasal verbs to help you to talk about problems.
Today we are looking at phrasal verbs that you can use in phone conversations.
There are various phrases that fall into this category, and you may have heard several of them.
Hold back
Hold on
Hold up
Hold off
Hold out
Hold over
Hold down
Hold for
We're going to look at some of the most common ones, and how you might use them in your conversations.
Phrasal Verbs About Phone Conversations
You might be surprised at just how many phrasal verbs are in this area.
You may talk about phone conversations a lot, and you are likely to be part of them as well.
So these phrasal verbs help to describe that dynamic and these situations, so you can check them out and then start using them in your conversations.
Pick up: This means to answer a call or to check your phone. You may physically pick it up or pick up a call coming in. You are answering or checking to see who is calling. You might say "I picked up the phone to call my mom, but then I saw that she had texted me."
Cut off: This means that a phone call is disconnected. You may have been in the middle of a conversation, when suddenly the call ends. It is unexpected and usually done by accident. You could say "We got cut off just now. What were you saying?"
Hang up: This means to end a call. It may be that the conversation is over, or you are telling the person that you are ending it. This isn't usually done in a negative way, but it can be. You could say "I'm going to hang up now, I'll talk to you later." That's not a negative way, it just indicates that the conversation is over. If you were to hear "He hung up on me!" then you know that's a negative way of saying this and not a good ending to the call.
Hang on/Hold on: This is an idiom we use when asking someone to wait. You may be on a call and need somebody to wait for a second while you take care of something. It may also be that you have another call coming in so you want them to wait for a second while you answer it. You could say "Hang on a second, I'm looking up the address."
Break up: This is what you say when the connection is getting poor on your phone call. It often happens when somebody is in a zone where the reception isn't great. You could say "You're breaking up. I'll call you later."
Call back: This is the simple act of returning a call. Somebody tried to call you earlier or may have even left a message and you are now returning that call to them. You could say "Call me back once you're in the car and available."
These are all great phrasal verbs that center around a phone conversation, and you will find them quite useful.
Here's an episode that you will find quite useful about using your English on a phone call.
This is a nice complement to the phrasal verbs that you have used today. How To Practice Your English On The Telephone For Free
Roleplay To Help
In this roleplay, Lindsay and Aubrey are talking about and through a phone conversation.
Lindsay: "I'm surprised you picked up the phone. Usually I get your voicemail!"
Aubrey: "I know–I never answer phone calls! I have a minute now though, what's up?"
Lindsay: "Hang on – my doctor is on the other line with results I'm expecting. Can I call you back?"
Aubrey: "Yep, bye!"
Lindsay: "Ok, hey – sorry about that!"
Aubrey: "No problem. I'm going through a tunnel though so I'll call you back if we get cut off."
Lindsay: "Yeah, you're breaking up."
Aubrey: "Sorry! Just hang up if you can't hear me and we can talk later."
Takeaway
With today's phrasal verbs, you'll be ready to speak like a native during phone conversations.
It could be very difficult to learn these phrasal verbs because each verb takes many different particles, but take it slow and you will master this.
Each one creates a verb with a totally different, unrelated meaning so just try to remember that.
However, if you learn phrasal verbs in context, like today's verbs that are used when speaking on the phone, you'll more easily be able to remember the meaning of each one and use them correctly in that situation.
Phone conversations are a very common part of everyday life, and so you want to know how to talk about them.
If you use these phrasal verbs then you will know what to say when you are on the phone, and this can really help to build your confidence.
If you have any questions, please leave them below in the comments section.
We'll get back to you as soon as we can.