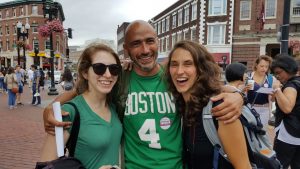 Have you ever heard native speakers have a conversation like this one:
L: Michelle don't you just love how crazy it is when you sit up in the Starbucks in Shibuya crossing and watch all of the people?

M: Yeah no Lindsay it's insane. I love it!
In that conversation Michelle answered my question with not just a "no" or a "yes" but a "yeah, no… "
Why did she do that?
Today we'll show you exactly why native speakers say "yeah, no" in the same sentence and you'll learn whether they are disagreeing or agreeing when they say that.
HI! Lindsay, Michelle!

I should have to send a voice mail via your website, but I really wanted to talk to you face to face in person so my daughter and I made a video to say thank you for your awesome work and ask a question!

Actually I have wanted to ask this questions for a year or so but it was tough to ask since it's really complex one.

I made a lot of mistakes on the video, so embarrassing…please never mind and hope go easy on us.

In this video I mentioned you a couple of your episodes to ask a question.

From episode 689 around 16:20 and episode 689 around 9:30.

And here is another corresponding question.

How do you answer to this question?

"I don't need to go to the party tonight?" without "right?".

If she or he doesn't need to go to the party.

Would you say "Yes? or No?

Correct me if I'm wrong but I heard native speakers answered Yes, to those kind of questions, even though they meant No, you don't. Thank you for watching that long video.

It is still cold here in Japan, I guess same there on the east coast so please stay warm.

Take care! Kaori and Anna with warm hugs!
Make sure you understand every word you hear on All Ears English.

Bring your English to the advanced level with new vocabulary and natural expressions.

Get the transcripts from today's episode.

Learn to speak naturally with the American accent.

Click here to save 50% and subscribe to future transcripts!
This is a great question from Kaori and Anna.
It is tough to know how to answer negative questions.
The best rule of thumb is to stick with Yes or No to match your answers. Learn more here in Episode 145.
To give you more details:
When someone says, "I don't need to go to the party tonight?" if that's true you would say "no, you don't" or "no you don't need to" or you could say "yeah that's right. You don't need to (go)" so there isn't always one definitive way to answer.
The most important thing to remember here is don't focus on just the "yes" or just the "no."
Instead look at the whole message and the whole phrase that the person is saying and focus on the situation and the context.
Context is king!
Kaori asked another important question and that's the topic of today's episode.
To many English learners it is strange when natives say "yeah, no, I think…" when they are agreeing with you.
Why do natives say both "yes" and "no" in the same sentence?
Example from our episode:
Kaori heard me say in episode 689 when we were talking about raise, rise, arise:
L: So, you know, it's, I don't know, it's a tricky question to me.

M: Yeah (yes)….no, I mean, there's obviously… It's not just a black and white kind of thing.
Why did Michelle say "yeah" and "no" in the same sentence?
Did she agree with me or not?
Yes, she did agree with me.
To figure out what Michelle thinks, you should focus on what she says after "yeah, no…"
Don't get caught and look at each word individually.
If you do that, you will get paralyzed when you hear "yeah" and then "no" and then you will stop listening.
You need to hear the full answer.
Why do natives do this?
It's a speech pattern that's in style right now.
They do it when they agree or disagree and usually as a response when someone states their opinion.
It's a way of showing you are in line with someone.
When they say "yeah, no…." it's not really saying "no."
Tone of voice matters:
Often we can tell if someone is agreeing or disagreeing based on their tone of voice.
Pay attention and don't just focus on the grammar and the vocabulary.
More examples:
L: Michelle it's been a relatively mild winter hasn't it?

M: Yeah, no it hasn't been bad. Not nearly as bad as the winter of 2014.
Listen to this role play on the audio to hear it done twice, once with a normal tone of voice and once with a static tone of voice.
Here is another one:
M: So Lindsay what did you think of the live music scene in Nashville? Wasn't it amazing?

L: Yeah, no I loved it! I was surprised that it's not just country music. It's also bluegrass and folk music.
And another:
L: New York is not an easy place to make it, is it?

M: No, yeah it can be really tough to make in New York.
In the last dialogue the word "no" is agreeing then "yeah" and "it can be…." is offering more backup information and emphasizing agreement.
The funny thing is, when I was writing this episode in Starbucks I heard the two girls (native-speaking college kids from Harvard) next to me talking about dormitories and they used this native speech pattern.
A: Are you in a quad? Aren't you excited?

B: Yeah, no I can't wait.
This native speech is confusing but it is in style right now. These days natives are using it a lot.
Focus on the whole phrase. Don't focus on individual words and what they mean.
Pay attention to tone of voice. Don't panic if you don't understand what they mean at first. Ask them to clarify.
What questions do you have from today?
Let us know in the comments below.