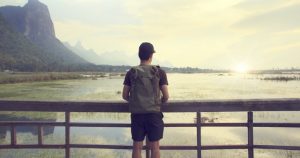 Have you seen any movies lately that resonate with you?
Do you often hear natives use the word "resonate"?
Would you like to learn how to add this term to your vocabulary so that you can connect with native speakers.
Hey Lindsay,

How are you. You and Michelle all team is doing great job. I have question for you

You guys use in many episode the word resonating or resonate. I am kind of confuse with this word I know the general meaning but you use so many different ways so if you get chance please explain

Thanks and have wonderful day and summer vacation

Dhaval
Make sure you understand every word you hear on All Ears English.

Bring your English to the advanced level with new vocabulary and natural expressions.

Get the transcripts from today's episode.

Learn to speak naturally with the American accent.
What does word "resonate" mean?
There are a few definitions (dictionary) of resonate:
It means: to resound, to create an echo.
"The music resonated throughout the room. It was beautiful."
The definition that we're working with today is this one: To produce a positive feeling, emotional response, or opinion.
This definition is used often to speak about emotions.
Examples: 
"My experience traveling really resonates with ."

"His speech didn't resonate with the audience. Next time he will have to be more concise and listen to the feedback."
Other things you can say:
to have an impact (on someone)
Example: "His words had a real impact on me."
I really related to (something or someone)
Example: "I really related to what she said because I had a similar experience."
Example: "That movie really hit home for me–I actually cried!"
What questions do you have about today's episode?
Let us know in the comments below.