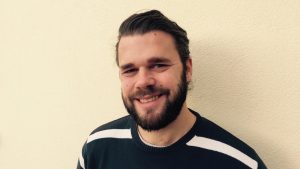 Do you get frustrated when it comes to English pronunciation?
Are you still making mistakes when you pronounce past tense of words like "work" and "try"?
Today we have Alex on the show and he will show us how to finally conquer your lingering pronunciation challenges.
What is the biggest mistake that Alex hears in pronunciation?
We hear a lot of students saying "I try-ed" when they want to say "I tried."
They pronounce verbs with -ed endings by pronouncing two syllables when you should only pronounce one syllable in this case.
What can you do to solve this?
Check your throat.
Place two fingers on your throat and see if it's a voiced or un-voiced verb.
If it's a voiced verb then the last sound will make your voice vibrate.
You will feel your voice box moving.
You get the same vibration with the "m" sound in "seemed."
We call this a voiced consonant.
Other sounds that are voiced are: "b" sound, the "v" sound.
If we know that it's a voiced sound then we have to add a "d" sound at the end, but instead of adding another syllable, we just pronounce the "d" sound at the end of the word.
How to book a lesson with Alex:
Step 1: Register here and they will send you $10 to go toward your second lesson
Step 2: Go to Alex's profile and book a lesson with him at italki.com/teacher/4206970
What should you do if it's unvoiced
If it's unvoiced it means that you don't feel your throat like in the word "laugh."
If you put your hands on your throat when you say "laugh" you should feel nothing.
In this case you're going to add a "T" sound at the end of the verb.
What is the exception?
If the words end in "D" or "T" like in the word "want" when it becomes "wanted" you would add the extra syllable.
This rule also qualifies for adjectives like the words "amused" and "confused."
How does this work in the real world?
Practice with your friends.
Practice when you're reading by yourself.
By the time you are out in the real world speaking you will be used to it and you will understand how to pronounce the past tense of each word intuitively.
Try this trick and practice it for a few minutes each day.
This rule is reliable and will help you every time.
What questions do you have today?
Let us know in the comments below.