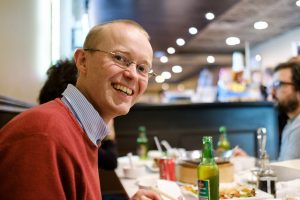 What are you "working on" these days? Do you have any personal projects? Any home improvement stuff? Any personal goals?
Today we have a question today from a listener about  the phrase "work on."
You'll see that this can be used in a few different situations and the word "work" can be broadened out to mean different things.
This question is from one of our listeners who lives in New York City so she is taking the real English she hears on the street and she asking us about it.
This is great stuff so listen up!
"Just right after coming to NYC, I realized that people use "work on" a lot in various situations. It's really something that I've never learned from the textbooks, but it's like a magical phrase that I can use so often.

For example, in restaurants: Waiters ask "are you still working on it?" or they ask "are you done with it?" then I saw so many people say "I'm still working on it."  I use these phrases a lot too.

In the classroom: But "work on" is also used to mean, spending some time and effort to improve something. I probably knew the meaning of this, but didn't actually use it before coming to NYC. I used "improve" more before, but now I prefer to use "work on."

Are there specific differences (nuances) here?

I think it can be used in more various situations, but I can think of only two now. Is there other ways to use this phrase? 
Great question!
To work on= to make progress, to put effort towards something in pursuit of a goal
What are you working on? What projects do you have now?

(Are you) still working on that?

At a restaurant the waiter might say this to see if she or he can clear your plate. They might also say this: "Are you still working?"

"To work on someone": This could mean to try to convince someone of something or trying to get them to tell you something, but this is less common.

Example: "Jim isn't thrilled about the idea of moving to Thailand but I am working on him."

"To work on" This could also mean to improve something.

For example: "Your backhand is great, but you should really work on your topspin forehand."
What the takeaway today?
Be flexible about how you use a word like "work."
It can be applied to different situations, even eating.
Listen to natives and identify chunks then try to use them when you think it's the right situation.
Don't forget, focus on Connection NOT Perfection!
What questions do you have today?
Let us know in the comments below.