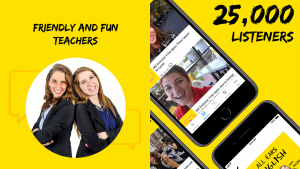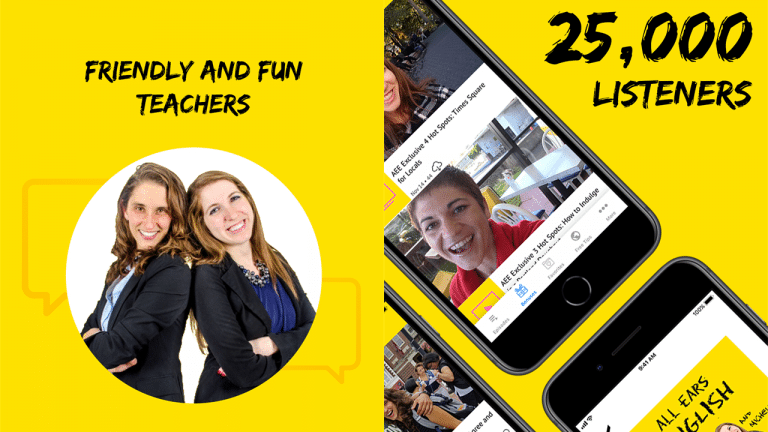 The iOS app is officially live and you guys are making this launch a huge success!
This is an exciting week at AEE and we can't wait to bring you amazing new content exclusively through this app.
Today we'll give you the update on what's happened since we launched on Sunday and how you can help us reach our next community goal with this app.
What's happening with the app?
Everyone is downloading it!
We have seen big downloads since our day 1 launch and you guys are continuing to install the app and use it every day for your AEE episodes.
You are also downloading the bonus videos!
Today you get to visit a movie theatre in Portland with Jessica and learn how to talk about classic movies with native speakers.
Hurry! This bonus video disappears from the app on Friday!!
Download these videos quickly because they disappear in the bonuses page of the app after just a few days and they can't be found anywhere else!
What's happening with reviews?
Our goal was 200 reviews by Friday January 19th. Did we get there? YES!!! We got there thanks to you guys!
Here are some of amazing people who reviewed us in the app store.
A HUGE THANK YOU TO:
Wallas Vilela and thanks to Wallace for sharing the app in his What's App group, Ondrej, Krishan, Gerrywon, Nima , Huseyin Ayasun, Gustavo in Brazil, Mateusz21, Jerry, Manuel DULICE, Nazdrik, Marcia Gressler, Elke from Germany, Magaiver Oliveira, Marcus Senna, Fabrice, Molie Tai, IgorOzz, Tess Freire, Bilomail, hervé31, Meet_wdwd , SergioHCP, Stars I looked up in Manhatten, Delruby, Rafael Damiati,  zigfried73, Shadow of Sail, Ricky_HongKong , Wwwwwwilla, Gus from Argentina, Andsfonsec, Thegovernor,  to_love, AlexVasquez2, skeibhert Sandia, Gui Parra, Wen-Han Wu, futoshi171 , magaiverf,  Fred Zeruof
We love you guys and we appreciate you guys!
Keep going with your reviews and tell a friend about AEE.
What's our next goal? Our next goal is 350 reviews by Friday February 1st!
Can we do it?
We can do it with your help!
Please go now and download the app then leave us a rating and review. We will read your name on the show next week.
What about Android users?
We couldn't build both the iOS version and the Android version at the same time but we know that you want the Android version and we plan to build it in 2018.
It's coming soon!
Until then, if you are an Android user, keep listening inside the podcast.
What's next?
Next week we will announce our new community goal and it is related to sharing but sharing in a BIG WAY!
Listen to our bonus episode next week for more information and get ready to share the link to the app store in your big online communities!
Leave a rating and review.
Check out the exclusive bonus videos.