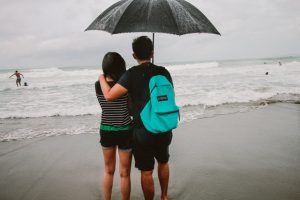 Has it been raining a lot in your city?
It has certainly rained a lot in Boston and New York.
What are we talking about today? Rain!
In English we have a ton of natural idioms and phrases that are related to rain or use the word "rain" in them.
To connect with natives you'll want to know these and how and when to use them.
Make sure you understand every word you hear on All Ears English.

Bring your English to the advanced level with new vocabulary and natural expressions.

Get the transcripts from today's episode.

Learn to speak naturally with the American accent.

Click here to download them instantly.
1) "When it rains it pours" : When one thing happens, more things follow.
A: Wow, I have been applying to jobs for months and have not heard back from anywhere. Now I have 4 interviews this week.
B: Well, you know what they say. When it rains it pours.
A: True!
2) "It's raining cats and dogs": You probably know this one!
A: I forgot my umbrella.
B: You better buy one. It's raining cats and dogs out there.
*Note- this expression is used a lot in English classes and you might hear natives use it once in a while, but it's a common "ESL" word so try branching out and using different ones that you see in today's episode.
3) Rain check: Learn more about this phrase and how to use it to reschedule plans
A: Sorry I can't make the party this weekend. Let's make a rain check?
B: Definitely!
4) Rain or shine: Something is going to happen no matter what
A: What if it rains at the picnic?
B: Well, the invitation says it's going on rain or shine.
A: I'll bring my raincoat!
5) To get rained out
A: I'm so bummed. I had baseball tickets but the game got rained out.
B: That's too bad. Do you get a refund?
A: I'm not sure.
6) Rainy day
A: I always put some of my paycheck into savings in case of a rainy day.
You can also say "rainy day fund"
Why do you think we use expressions about rain so often in English?
Does rain bum you out?
Does it make you sad and down?
Let us know in the comments below.