Is it possible to take the IELTS exam only once and get the scores you need?
Yes!
Today Jessica chats with Vishav, who took the test only once.
She got her target scores on the first try.
Her advice and tips regarding what worked for her can help you get the scores you need!
She especially was worried about Task 1 and found the strategies in 3 Keys IELTS were exactly what she needed.
How was Vishav studying before finding 3 Keys IELTS?
She was enrolled at an IELTS preparation school, similar to Pawan.
As she took practice exams, she could see that her scores weren't going up.
She decided to drop out of the program.
Then she joined the 3 Keys Success System.
What was the difference between the first language course she tried and 3 Keys IELTS?
She was stuck at a 6 or 6.5 when studying with the language school.
This English school was not clear about what strategies to use.
The teachers were not native speakers and had received low scores on the IELTS exam.
The classes left her confused and she could see she wasn't improving.
Everything changed when she found 3 Keys IELTS because it gave her practical strategies to use right away.
How can you know if a language course is good IELTS preparation?
Know which questions to ask.
Who is teaching?
Are they qualified?
What scores did they get on the IELTS exam?
Make sure whoever is teaching about the exam is qualified.
If they're not a native speaker, make sure they got at least an 8 on the exam.
If they haven't gotten high scores, they don't know how to tell you how to get high scores.
Strategies Created By A Former IELTS Examiner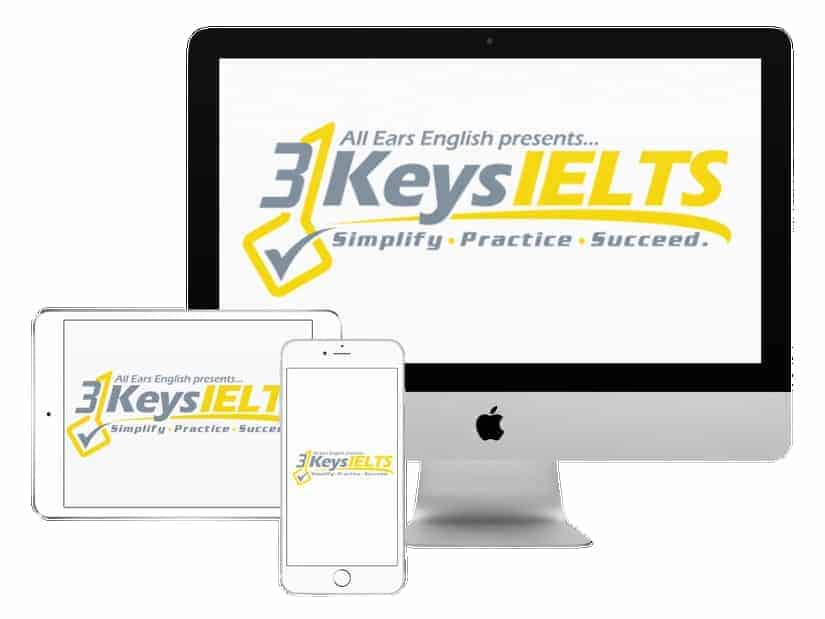 100% Score Increase Guarantee with our Insider Method

Are you ready to move past IELTS and move forward with your life vision?

Find out why our strategies are the most powerful in the IELTS world.

When you use our Insider Method you avoid the BIGGEST MISTAKES that most students make on IELTS.

Click here to get a score increase on IELTS. It's 100% guaranteed.
What does Vishav suggest for getting a high score on Writing?
Follow the 3 Keys IELTS strategies!
Trust the information in the Modules, because Jessica was an Examiner for 14 years and knows these strategies work.
She also found the templates extremely useful.
The templates provided transition phrases and high level linking words.
All she needed to do was surround those phrases with her own great vocabulary and ideas.
Vishav also took advantage of extra lessons
She received detailed email feedback on her essays.
If you're a 3 Keys IELTS student, go to the email feedback link in your course to get this feedback.
She also met with Jessica on Skype to discuss Writing Task 1.
This built her confidence, because no one had checked her Writing before, so she didn't know how it would score.
What did she change that improved her score?
She made time to read newspaper articles on general topics such as education and health care.
The vocabulary was high level and gave her ideas on many different topics.
The reading you do in the study roadmap is not just for the Reading exam, it's also vital for your Writing!
Why was Vishav worried about Task 1?
She had never written about a graph in her life.
Nothing is natural about Academic Task 1.
Most of us don't have to describe numbers on a bar graph in our daily lives.
You really need strategies on this Task.
It's vital to know what the Examiner grades on.
It's not obvious!
You need someone with experience to tell you what the Examiner is looking for.
Did Task 1 become easier after joining 3 Keys IELTS?
Vishav feels the strategies she learned in the Modules made all the difference.
Once she went through the program, she knew how to organize her essays.
The planning and brainstorming for Task 1 can take a lot of time if you don't have strategies!
You might not know which numbers to write about or how to discuss them.
If you are also confused about how to organize a Task 1 essay, get into the 3 Keys IELTS Success System!
What additional advice does Vishav have for those studying for IELTS?
Never underestimate yourself!
This raises your anxiety level.
Believe that you can do it.
Your English is better than you think it is!
It doesn't have to be hard if you have good strategies.
Takeaway
It is possible to get the scores you need on IELTS the first time you take it, but you must have the right strategies!
Vishav provides excellent advice about how to study and what to focus on.
With email feedback and personal coach classes, she made sure she was ready.
Rather than spending time and money to take the test a second time, sign up for 3 Keys IELTS.
We guarantee your score will increase if you follow our program!
Sign up for the 3 Keys IELTS Success System to get started today!
What questions do you have from today's episode?
Please leave a comment below.