Today we teach you a game you can play that will help you improve your ability to paraphrase.
On every area of the exam, you need to be able to recognize parallels and use them as well.
When writing and speaking, you don't want to be repeating vocabulary.
You need to think of paraphrases!
This is the only way to get a 7 or higher.
How many IELTS-related skills should you work on at once?
In the 3 Keys IELTS system, we teach individual skills and give you ways to practice them.
This way you can get good at one skill.
Don't stress about getting good at everything all at once.
Instead, focus on improving something you need to work on until you have mastered it.
Then you can move on to the next skill!
How can the game Taboo help you prepare for IELTS?
taboo: something you should not say or do
On All Ears English episode 531 we discussed words borrowed from other languages.
This included discussing the high level word faux pas, which is similar to the word taboo.
These both mean something you shouldn't say or something that's inappropriate to say or do.
This game will help you practice paraphrasing, which is a vital skill for the IELTS exam.
Strategies Created by a Former IELTS Examiner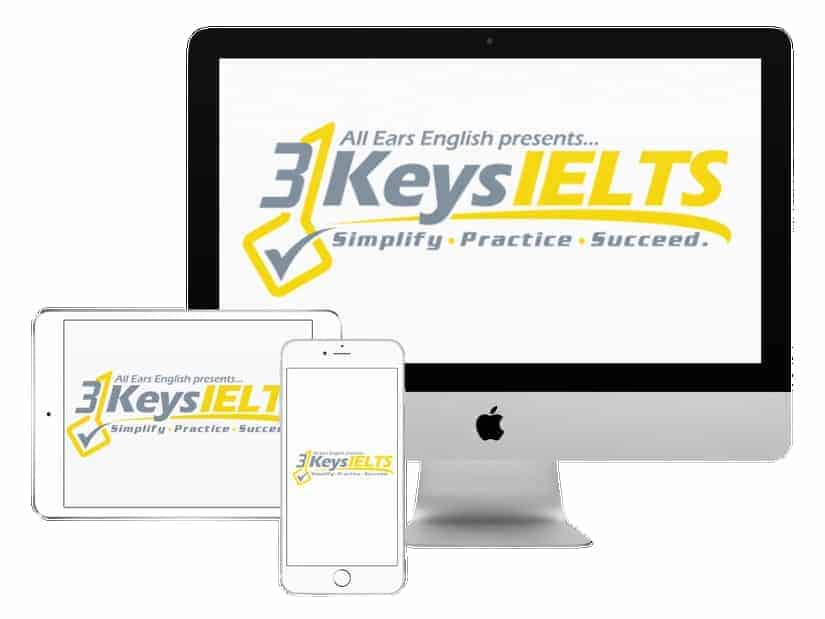 100% Score Increase Guarantee with our Insider Method

Are you ready to move past IELTS and move forward with your life vision?

Find out why our strategies are the most powerful in the IELTS world.

When you use our Insider Method you avoid the BIGGEST MISTAKES that most students make on IELTS.

Click here to get a score increase on IELTS. It's 100% guaranteed.
How do you play Taboo?
Step 1: Get a speaking partner
If you don't know anyone else who speaks English or is learning English, you can find a speaking partner in our Facebook group.
This group is a very active community where students are constantly seeking and finding speaking partners.
It is exclusive to 3 Keys IELTS students, so join today!
Step 2: Use Taboo cards or make your own!
Use words from your vocabulary notebook!
Under the main word, write related "taboo" words or parallels.
Step 3: Get your partner to guess your word!
You will need to be creative and use paraphrases because you can't say any of the Taboo words.
What were the Taboo cards that Aubrey and Jessica used?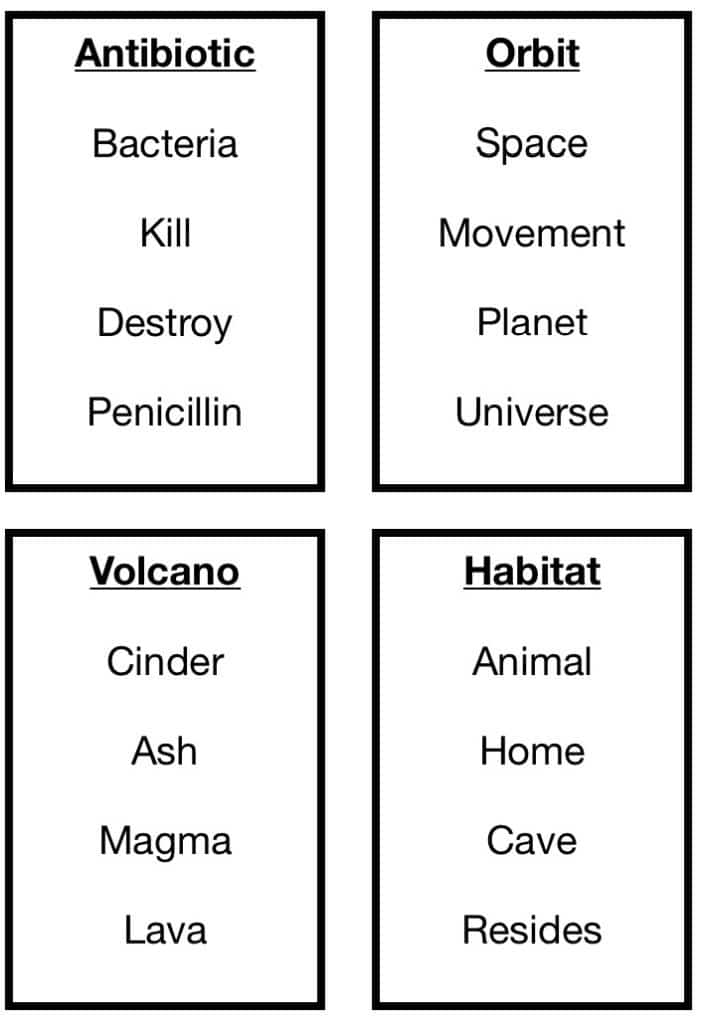 The first clue Aubrey gave was, "Medicine that fights an infection."
The word she wanted Jessica to guess was antibiotic.
As you can see on the card here, she was not allowed to say bacteria, kill, destroy or penicillin.
Jessica then gave the clue, "This word describes the path or journey that something in the sky makes around a sun."
The word she wanted Aubrey to guess was orbit.
She could not say space, movement, planet or universe.
Aubrey's second clue was, "This is when a mountain erupts and hot, molten liquid emerges."
The word was volcano, and she couldn't say cinder, ash, magma or lava.
Jessica's next clue was, "This word indicates the environment or the area that a creature lives in."
The word was habitat.
She was not allowed to say animal, home, cave or resides.
How can this vocabulary be used on the IELTS exam?
All of these words are high level and can get you that 7 or higher if you use them correctly.
The word habitat is used more often for where animals live, but when you know that word you also know the verb inhabit!
inhabit: live in
All of these apartments are inhabited by rich people.
Inhabitant: someone who lives somewhere
The inhabitants of this city are very friendly.
How can you be more confident starting English conversations?
Jessica and Lindsay are teaching a free webclass on this topic January 17 and January 21.
It will cover tips on being a fearless conversation starter.
This was the most popular webclass we've ever done!
You will leave with strategies for starting conversations so you can get that speaking practice you need for IELTS!
Spots are limited, so sign up today!
Takeaway
There are so many fun games that you can play to practice for the IELTS exam!
Break up your study monotony with Taboo!
This is a brain training game that helps you practice paraphrasing.
As you hone this skill, you'll be better able to talk on any subject!
This will increase your speaking confidence.
It will also boost your vocabulary scores for both Writing and Speaking as you correctly use parallels instead of repeating vocabulary.
What questions do you have from today's episode?
Please leave a comment below.