Enjoying your English and IELTS study is imperative!
Today we'll share why!
You'll learn how motivating material helped increase Takumi's overall IELTS score.
It went up by 2 whole band points!
He discovered what did NOT work and was able to change his strategy and get the scores he needed!
How did Takumi prepare initially?
He took the IELTS exam twice.
Initially, he prepared by studying vocabulary lists.
In Japan, he had access to a book of IELTS vocabulary.
He memorized over 2,000 words from this book.
He also spent a lot of time studying grammar.
Unfortunately, he discovered this was not an affective way to study!
His scores were much lower than he needed.
Listening: 5
Reading: 5
Writing: 4.5
Speaking: 4.5
Why did Takumi sign up for 3 Keys IELTS?
After receiving these low scores, he knew he needed to change something.
He was listening to our podcast, and knew he could trust Jessica's 14 years of Examiner experience.
He realized he needed insider Examiner advice!
What were Takumi's recent scores?
Listening: 7
Reading: 6.5
Writing: 6.5
Speaking: 6
His scores increased by so much!
He was confident in the 3 Keys strategies.
3 Keys IELTS gave him inside information about what to expect.
It became clear that it wasn't just about learning English.
It's also test-taking skills, time management and anxiety management.
#1: Listening resource recommendation
He loves rap music, so he listened to English rap music.
His favorite artist is J-Cool.
If you want to improve your English for IELTS, you must find ways to enjoy it.
Our IELTS lessons in the course are interesting and engaging.
We know it must be fun!
Strategies Created by a Former IELTS Examiner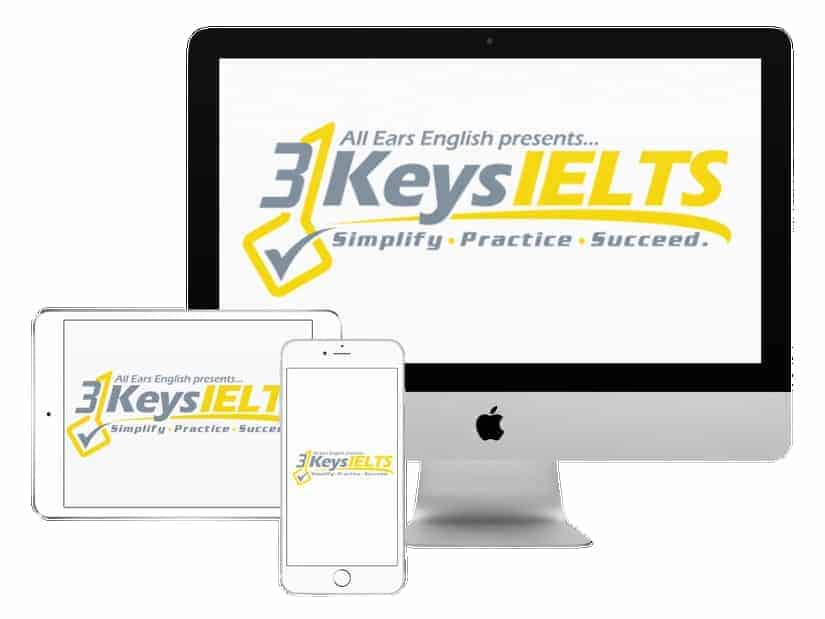 100% Score Increase Guarantee with our Insider Method

Are you ready to move past IELTS and move forward with your life vision?

Find out why our strategies are the most powerful in the IELTS world.

When you use our Insider Method you avoid the BIGGEST MISTAKES that most students make on IELTS.

Click here to get a score increase on IELTS. It's 100% guaranteed.
#2: Reading advice
He learned in 3 Keys IELTS how to skim and scan.
skimming: reading fast for the general gist of the reading passage
scanning: looking for specific answers
These are shortcuts which allow you to finish on time.
Without them, you cannot complete the Reading questions in time!
Was he confident his scores would increase?
Yes!
He could see how much the strategies were helping him on practice exams.
He was able to be extremely confident on test day.
He knew his scores would be higher.
How did he increase his Writing score by 2 full band points?
He discovered how useful the 3 Keys Writing templates are.
He had heard from a teacher in Japan that templates can hurt your score.
At first, he doubted our advice to use Writing templates.
Subsequently, he asked many people about it.
He learned that 3 Keys IELTS is correct that templates boost your score!
Why do teachers often say you should not use Writing templates?
It is true that, if used incorrectly, Writing templates can lower your score.
If you write memorized sentences and phrases that don't make sense in your essay
If it's obvious you've memorized stuff and the ideas aren't yours
Writing templates don't give you the ideas to write.
They can't, because we don't know what the question will be.
The templates must be used like a map.
They tell you which linking phrases and where to put specific types of ideas.
Where reasons go
Where examples go
Where supporting details go
When used correctly, they can increase your scores dramatically!
What advice does Takumi give students who need to improve their scores?
Make learning English fun!
He used to watch YouTube videos in Japanese.
He now watches them in English.
Because he loves watching tech videos, he now watches them in English.
For example, videos about new Apple devices.
Whatever you're interested in, watch videos about it in English!
Why is it important to enjoy what you're watching or reading?
You need to forget that you're studying!
You want to be experiencing English like a native.
For Takumi, it's listening to rap and watching tech review videos in English.
This is what native English speakers do!
You absorb English this way and will be able to actually apply it.
What is Takumi's plan now?
He is getting more involved with computer tech.
He plans to study in Malaysia.
He's currently studying Python and loves it!
His future is bright now that he's past IELTS!
Takeaway
It is possible to increase your scores by 2 band points!
The way to do this is to get strategies that are specific to the IELTS scoring system!
You need templates, like the ones Takumi used, to improve your Writing score.
Everything you need is in the 3 Keys IELTS system.
Our strategies are based on Jessica's 14 years as an Examiner.
Don't delay any longer- sign up today!
What questions do you have from today's episode?
Please leave a comment below.