Today 3 Keys student Neeharika tells you how she got overall 7.5 on General IELTS.
She increased that score to an overall 8 when she then took the Academic exam.
Not only is she a joyful person, but she can help you feel joyful about your next IELTS Exam!
These scores were higher than what she needed!
She only needed an overall 6.5.
Tune in for her tips on how you can get the score you need!
Neeharika's IELTS journey
She plans to immigrate to Canada.
She enrolled in 3 Keys IELTS initially to take the General IELTS exam.
Her plans changed, so she needed to take the Academic IELTS.
Luckily, the strategies in 3 Keys prepared her for both exams!
How did she get a higher score on the Academic exam?
The practice she completed for the General exam prepared her for Academic as well.
Our practice exams are more difficult than the average practice exam.
We use academic reading texts so that you are prepared for either.
This way, reading on the General exam feels easy!
The strategies she learned for the General exam are the same for the Academic exam.
The main difference was the Task 1 Writing essay.
For Reading, all the question types were the same.
She scored 8.5 in reading.
How did she feel when she saw her scores?
She was surprised!
She did not expect to score 8's.
For Writing, she was hoping to get a 6.5.
She did not expect to get higher.
When the writing score was 7, she was floored!
Unsurprisingly, she was super happy and shouting.
Strategies Created by a Former IELTS Examiner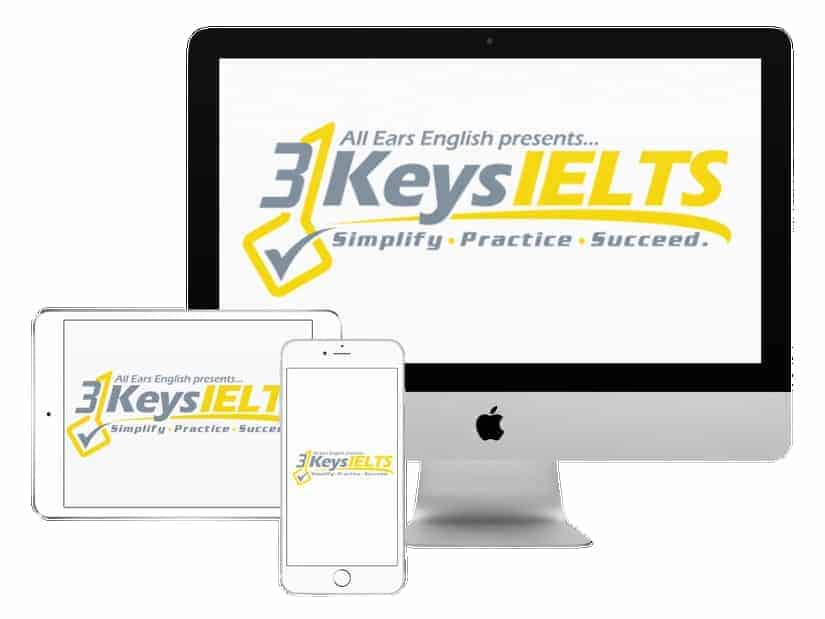 100% Score Increase Guarantee with our Insider Method

Are you ready to move past IELTS and move forward with your life vision?

Find out why our strategies are the most powerful in the IELTS world.

When you use our Insider Method you avoid the BIGGEST MISTAKES that most students make on IELTS.

Click here to get a score increase on IELTS. It's 100% guaranteed.
How can you score a 7 on IELTS Writing
Answer the question!
Neeharika used to overcomplicate the essay.
This made it so she wasn't always addressing the task.
This ruined her Task Response score.
She suggests you make sure you understand the topic.
Additionally, trust the 3 Keys templates.
Don't be tempted to use strategies and templates from other websites.
What exactly is a template?
Many students think a template is to memorize entire paragraphs.
Some might even think this means to memorize entire essays!
There are a lot of website that provide low quality sample essays.
The difference with 3 Keys templates is that they are flexible.
We give you the linking words in high-scoring sentences that work for specific types of essays.
You cannot use every template on every essay.
You must understand the context so you can use the appropriate template for the topic.
How to score highly on the Vocabulary score
She suggests you use high-scoring words only when you understand well the meaning.
Use high level replacements for very common words.
One vocabulary word she recommends is "flabbergasted."
Replace the low level word "surprised" with this adjective.
However, you must be careful not to include overcomplicated paraphrases that cause the meaning to become unclear.
Don't memorize lists of fancy words.
It is vital that you learn them in context.
You won't know how to use these words and you'll use them incorrectly.
This is disastrous for your scores.
You do need great vocabulary, but you have to understand it and know how to use it correctly.
You must be able to use it in a sentence that makes sense and supports your ideas.
Neeharika's speaking exam
She suggests you enjoy the exam!
Be happy and enjoy speaking to the examiner.
If you are enjoying it, you will speak more naturally.
To prepare to be able to enjoy it, practice with a friend.
Be silly, make jokes, laugh and be yourself!
If you think of it as a job interview, you will be too rehearsed, formal and stilted.
Answer honestly!
Laugh and narrate your thoughts if you make a mistake.
Speak as though you are talking to a friend.
What resources does Neeharika recommend?
She found our IELTS Energy YouTube videos very useful.
She watched all of our videos on Speaking, which was several hours!
Her recommendation is that you use these to improve your skills.
These are especially useful for improving for IELTS Speaking.
They are only 3-4 minutes long.
You will find videos with vocabulary and sample answers.
Use these for mimicking and shadowing.
This will help you improve both vocabulary and intonation.
What advice does she share for IELTS Listening?
She listened to Listening audio at the speed of 1.25.
This way, when the audio on test day was slower, it felt easier.
This made it easier to not miss questions.
She also practiced not trying to understand every word.
As an Examiner, Jessica saw many students make this mistake!
She also felt that the 3 Keys strategies for the Listening exam helped massively.
Recognizing key words to listen for made all the difference.
She started recognizing tricks and traps and stopped falling for them!
What helped her score 8.5 on Reading?
She did not try to understand every word.
Instead of reading entire passages, she knew to look for key words to find answers.
She recognized that she didn't have time to read it all.
Also, she saw that thinking about it too much led to choosing the wrong answer.
She simplified the process and used strategies that were clear so she knew what to do.
Furthermore, if you can't find an answer, don't spend more than a minute.
Mark it to come back later and move on!
Takeaway
Neeharika is moving on with her goals and dreams!
She will be pursuing a student visa and will complete her education in Canada.
She lived our motto of "Simplify, Practice, Succeed."
Allow her story to be an inspiration for you!
She has been thrown complications in her original plans.
She adjusted and more opportunities are being opened.
For all the strategies you need to get past IELTS, sign up for 3 Keys IELTS today!
What questions do you have from today's episode?
Please leave a comment below.