Have you heard natives misuse idioms in English?
It happens!
Today we share a few incorrect idioms from films.
We also teach how you can use them accurately on IELTS to improve your Vocabulary scores.
You have to use idiomatic language for a 7+ on IELTS.
For more strategies for every part of the IELTS exam, sign up for 3 Keys IELTS!
Bonus weather vocabulary!
Jessica and Aubrey discuss the severe weather occurring in the U.S.
Much of America is experiencing a cold snap.
cold snap: sudden cold weather
Southern states such as Texas and Louisiana are experiencing record-breaking snowfall.
Weather is a common topic on IELTS.
Be sure to practice discussing what the weather is like where you live and elsewhere.
Webclass invitation!
If you are going to use English at work now or in the future, come to our webclass.
We're going to teach confident vocabulary that will help you get a raise.
It will be March 6 and 9.
Sign up at allearsenglish.com/promotion.
Space is limited, so reserve your spot today!
Why are idioms sometimes incorrect on TV and film?
Often it is written into the script as a non-native speaker misusing an idiom.
However, sometimes on an unscripted reality show natives will use idioms incorrectly.
Aubrey has been taking note of these as she hears them.
We'll share the ones she's heard used incorrectly over the past few months.
This way you will know their correct usage for IELTS.
#1 Hanging on by a thread
On a reality show, a 25-year-old said it incorrectly.
I'm hanging on by a piece of floss.
He got the visual right, but not the material!
The correct idiom is hanging on by a thread.
Hanging on by a thread: barely succeeding at something
Use this when talking about problematic situations or challenges.
It describes a time when you have reached a point of desperation and frustration.
You don't know if things will end well, and they'll probably end badly.
"I'm at the end of my rope" has a similar meaning.
Strategies Created By a Former Examiner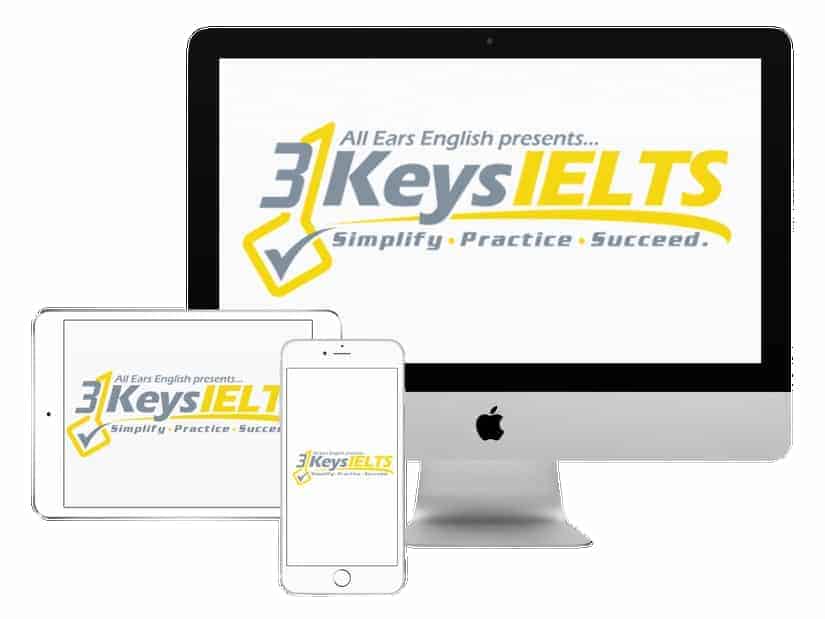 100% Score Increase Guarantee with our Insider Method

Are you ready to move past IELTS and move forward with your life vision?

Find out why our strategies are the most powerful in the IELTS world.

When you use our Insider Method you avoid the BIGGEST MISTAKES that most students make on IELTS.

Click here to get a score increase on IELTS. It's 100% guaranteed!
#2: Let's talk turkey
In the film Jo Jo Rabbit, the character of Hitler says, "Let's talk like turkeys."
The actual idiom is "Let's talk turkey."
Let's talk turkey: let's get serious
We use this when we're going to talk about real facts and data that might be negative.
The other person might not want to hear it.
It means you're going to be blunt and honest about details.
It is too informal for IELTS Writing.
However, it will work anywhere on the Speaking exam, including Part 3.
Use it to begin any question that's pretty serious.
"Let's talk turkey. This is not how things should be."
#3: I'm beside myself
This means you're shocked, surprised or speechless.
This is a flexible idiom, as it's not inherently negative or positive.
We just use it to mean we're so excited we don't know what to say.
I was beside myself. I didn't know what to say!
A good strategy for IELTS is to use this idiom if you can't think of a word to describe an emotion.
Instead of pausing, thereby lowering your Fluency score, use this idiom.
This gets you the required idiomatic language while helping you avoid hesitation.
#4: A broken record
In the TV series The Boys, Serge says, "You are like a record that is broken."
Idioms must be word for word!
In this case, he should say, "You're like a broken record."
A broken record: Someone who repeats themselves
This comes from a skipping record that plays the same notes over and over.
If you repeat yourself on IELTS Speaking you can say:
"I know I sound like a broken record, but I really feel that…"
#5: You couldn't hit the broad side of a barn
In the film Across the Universe, an American Harvard student says, "You couldn't hit the barn side of a broad."
This is an incorrect use of, "You couldn't hit the broad side of a barn."
This means that someone has bad aim.
In the scene, the students are golfing and someone makes a terrible shot.
Use this if you are asked about sports or athletic skill.
I'm not great at sports! I couldn't hit the broad side of a barn!"
Takeaway
You must use idiomatic language for a 7+ on IELTS Writing and Speaking.
The tricky thing about idioms is it is easy to misuse them.
They must be exactly accurate and used word for word.
Otherwise, the meaning is lost and it's unclear that you're using an idiom.
Practice using idioms so you can get the score you need on IELTS.
For more Writing and Speaking tips and tricks, sign up for 3 Keys IELTS!
What questions do you have from today's episode?
Please leave a comment below.