Today you will learn the best way to use the present perfect tense for IELTS Speaking and Writing.
If you want to score high on IELTS, you need to be able to use high-level grammar and to understand what the Examiner wants to hear.
We'll tell you all about it today.
Congratulations to Polina!
She posted a few days ago in the 3 Keys facebook group that she got an 8 in Listening, an 8.5 in Reading, and the 7 she needed in writing.
Our Facebook group is exclusive to 3 Keys students!
If you want to be a part of an extremely active and supportive IELTS network, join us today!
Watch the video now!
What is the present perfect tense?
You can boost your IELTS grammar scores by using the present perfect verb tense.
I'll explain an easy way to use it on the IELTS exam!
We discussed this verb tense in episode 974 of the All Ears English podcast.
We also talked about it on IELTS Energy episode 813.
Check those out for some excellent tips and example sentences.
When should you use this tense on IELTS?
We use present perfect to describe past experiences, when the experience is what's important rather than when it happened.
For the IELTS Exam, you can use it to introduce stories and experiences.
Strategies Created by a Former IELTS Examiner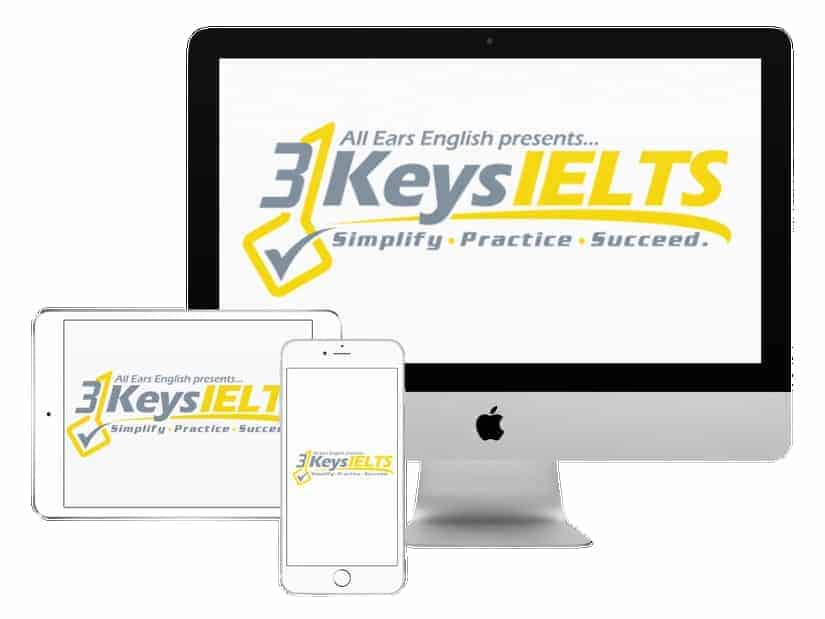 100% Score Increase Guarantee with our Insider Method

Are you ready to move past IELTS and move forward with your life vision?

Find out why our strategies are the most powerful in the IELTS world.

When you use our Insider Method you avoid the BIGGEST MISTAKES that most students make on IELTS.

Click here to get a score increase on IELTS. It's 100% guaranteed.
#1: Speaking Part 1
In Speaking Part 1 if you are asked:
"How often do you spend time with friends?"
You can use the present perfect tense to say, "I have spent a lot of time with my friends this week!"
You will then switch to the present tense to provide more details.
"Usually we meet for lunch, and we always like to chat about the week."
#2: Speaking Part 2
In Speaking Part 2, the question will often be in present perfect tense.
"Describe a vacation you have taken."
You will want to use that same tense when you first begin your answer.
"I have visited many countries all over the world. I have loved every trip!"
As soon as you get into details, you will need to use past simple for a question like this, where you are describing a trip you took in the past.
"When I was 22, I went on an African safari."
Provide details about who you went with, where you stayed and what you saw.
#3: Task 2 Essay
On your Task 2 essay, you can also introduce ideas with the present perfect tense.
If the topic asks about factories polluting the environment, you could write:
"For decades, industrial companies have polluted the environment in a myriad of ways. They have released toxic sludge into water sources, as well as noxious chemicals into the air."
Takeaway
Verb tenses like present perfect can be difficult to use correctly!
Make sure you understand how to use it and when it is appropriate on the IELTS exam.
Using this tense correctly can help increase your grammar scores.
For more strategies that will help you get the score you need on the IELTS exam, join our 3 Keys IELTS Success System.
What questions do you have from today's episode?
Please leave a comment below.