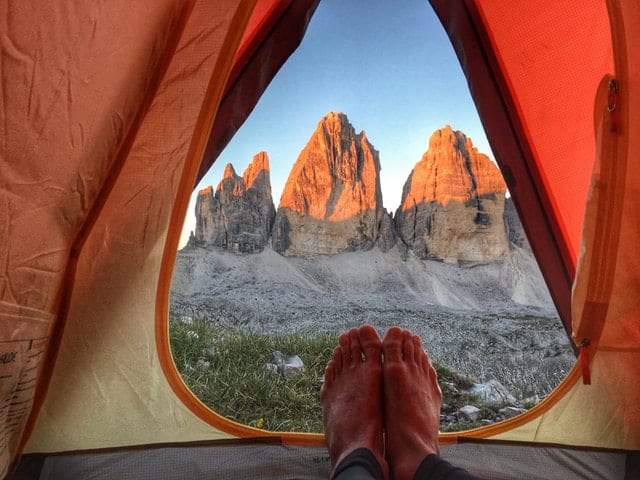 Have you heard somebody talk about "having an itch" in English?
Have you ever wondered if this has a different meaning than just to scratch your skin?
We're going to look at various phrases that talk about "having an itch" and what they all mean in English so that you can have better conversations about travel and adventure with your native-English speaking friends.
You will find that having an itch can be a good thing or a bad thing, but knowing how to talk about this is important.
Get Your Transcripts Today!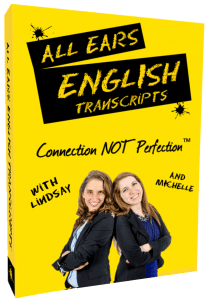 Make sure you understand every word you hear on All Ears English.
Bring your English to the advanced level with new vocabulary and natural expressions.
Subscribe and get the transcripts delivered by email.
Learn to speak naturally with the American accent.
Click here to subscribe and save 50%
We have a great question from a listener about an idiom that you may have thought about before.
Hi Lindsay, It's Burak here from Turkey.

I am a junior studying English language and teaching. I have a long commute to get to the university, so I value my time with your podcasts. I've been listening to you, Michelle, and Jessica for quite a long time. So I wanted to thank you for everything via an email, as I really enjoy your podcasts.

Speaking was always something very difficult for me for a long time. However now I feel that my listening and speaking skills have improved. I use a wider range of different vocabulary words when I talk. I would like to ask you a question, and I am hoping I can get your help. My question is what does it mean "to have itchy feet?"

As I understand from the context it may mean something about traveling, but I couldn't be sure about it. I'd be so happy if I could have the answer. Thank you in advance.

Sincerely,

Burak Aksoy
Unusual Ways To Talk About Change
This particular use of "itchy feet" may be a bit more unusual and therefore not used as often.
This idiom is one that natives may not even use that much, but there are other related phrases that are more common.
When you say you have "itchy feet" this means that you really have this feeling that you want to move or travel.
So you might say "I haven't been on vacation in three years. I have itchy feet–let's go somewhere!"
You won't likely hear this used in many conversations, but it does present a nice transition into the other phrases that use "itch."
You might hear "to have the itch" used more frequently, or even saying you've "been itching to do ___________".
Saying you "have the itch" means that you have a desire or a need to do something.
The same goes for saying you've been "itching to do something", it could be travel or trying something new.
You may even hear people say that they have the "7 year itch" in their marriage–which means that sometimes this is when people second guess their relationship.
This isn't a good use, but you can see where the phrases come from.
This all comes from the feeling on your skin–that sort of tickle that you need to scratch.
So it's a feeling that comes from the literal sense, and it therefore makes it figurative.
These phrases give you that sort of feeling or visual, and that works well in what you are trying to say in conversation.
Reviewing The Various Uses
Though you may not necessarily use "itchy feet" that often, as you can see there are plenty of other related phrases.
You may find it useful to do a review of the various uses of phrases that use the word "itch" or "scratch" in them.
Have the itch: This speaks to something that you have the desire to do. It may be something that you have wanted to do for quite some time. It may be something that you are interested in, and now you are finally ready to act on it. You might say "I have the itch to buy some new clothes! Come shopping with me."
Itching to……: It's a very similar way to talk about something that you have been wanting to do. It means that this desire has been there for awhile, and it may have always been in the back of your mind. You might say "I'm itching to move to a new city. I would love to try out Austin, Texas."
7 Year Itch: This is not a favorable thing because it comes up when a couple is at the 7 year mark in their marriage. This is often when that couple may grow apart or have interest in other people. This is a negative phrase, but it's used often in conversation.
Having an itch doesn't always have to be a negative thing, as it may push you to do something you've always wanted to try.
It may take you outside of your comfort zone, and sometimes that may be just what you need.
Turning That Itch Into A Positive Thing
You may tend to think of "having an itch" as a negative thing, and of course it can be.
It can also allow you and push you to do something you've never done.
It may force you to challenge yourself and to get uncomfortable that may lead you to something great.
It can be hard in life when you can't "scratch that itch" but there are things you can do to try to make it better.
What can you do when you have that desire or that "itch" to try something new?
How can you "scratch that itch" and do something positive for yourself?
Here are a few ways to introduce a new experience or fulfill some need in your life.
Read books: This allows you to escape everyday life and live through new experiences as you read. You can escape and travel to all parts of the world with a good book. This is a great hobby and can also allow you to learn more and fulfill something that you have had the desire to live through.
Watch travel shows: You can see the world from the comfort of your own living room. You can see some really great parts of the world and get to enjoy what their local culture is all about.
Find new things to do in your area: There may be some great excitement in your own backyard. You never know until you try, and you go in with an open mind. Check into new things you can do in your own area, and you may rediscover the very place that you live.
Learn something new: Take up a new skill or hobby to challenge yourself. Get out of your comfort zone and try something you've never done before. You never know, you may really like it!
Meet new friends: This is another thing that forces you to get uncomfortable, but there is a potentially high pay off. Try to meet new friends and see what this does for your life. Take the time to talk to new people and try to develop new friendships, and it can really take your life in a new direction.
Sometimes life doesn't always allow us to escape the way that we want to.
We should never stop growing and finding ways to change, even if we can't physically move or go after those changes.
Takeaway
The word "itch" is very dynamic, and it's also literal and figurative too.
Try to find ways to be happy in life, and use words and phrases to reflect that.
If you can travel, try something new and really enjoy the experience.
If you can't travel there are other ways to push yourself and enjoy new experiences.
Never settle or get stuck–there are so many ways to enjoy life and create positive experiences for yourself.
Are you taking IELTS next year? Go here to get started with the IELTS Energy Podcast.
If you have any questions, please leave them below in the comments section.
We'll get back to you as soon as we can.