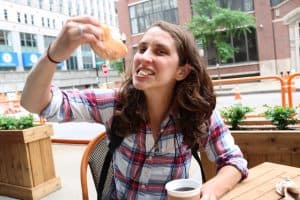 Today hear about the different foods that Lindsay and Jessica have experienced while traveling around the US.
Also find out how you can use these food topics to start conversations with native speakers and connect with new people!
When you are a newcomer to a place and you are learning about the new food in an area you need to be able to seek it out.
You need to know how to talk about the food that you are trying.
You want to know what special vocabulary words people use to talk about their food in their local city.
On Lindsay's cross country trip this summer she tried:
Craft donuts in Chicago
Pasties in Michigan
Barbecue ribs in Mississippi
Po Boys in Tennessee
A burger and a chocolate shake at In-N-Out
Chinese food in San Francisco
And so much more
In our course which will be released very soon you will get to follow Lindsay's cross country trip and learn how to talk about some of the foods that Lindsay tried.
What does it mean to be a "foodie?"
What does "farm to table" mean?
You'll learn all of this and more in the course.
To get your first lesson free click here.
Let us know the questions you have about today's episode.
Leave us a comment below.
Also check out our other bonus episodes in this series on how to have more profound conversations in English and how to talk about GLBT culture in English and the shocking truth about the American rust belt.