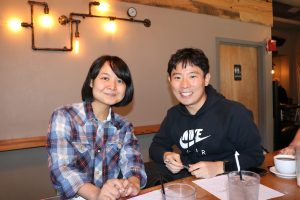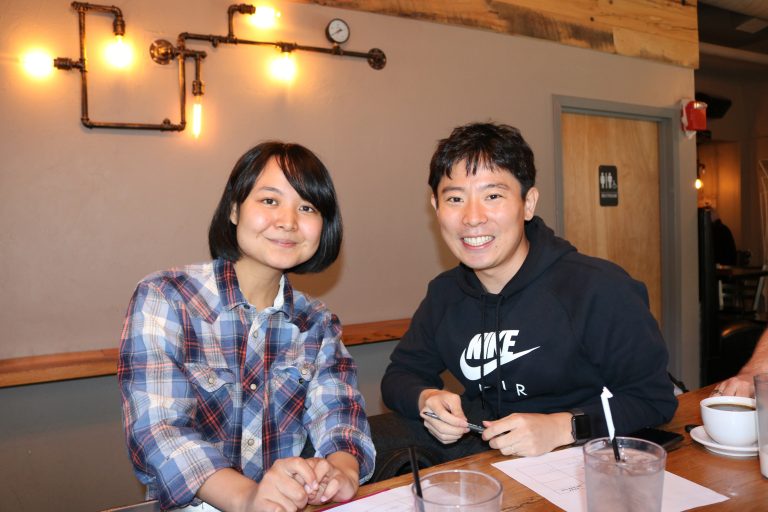 Today you'll meet Rio who was a participant in the Urban Immersion Adventure in Boston last October.
Why did Rio join the program?
She joined because she's a student studying in the United States and she has found that it's really hard to communicate.
She wanted to be able to make the connections that she was having a hard time making before in her daily classes her university.
She was feeling it was hard to jump in and keep up with the group in class.
She tried so hard to listen but was having a hard time putting it all together.
While she was in the Urban Adventure, she was given the opportunity to speak up and get involved more.
She was encouraged to speak out and it worked really well.
Today we'll learn more about Rio's experience in the Urban Immersion Adventure.
What was Rio worried about before joining the program?
She was worried that she would be the only woman in the group.
She was also worried that English was the only language to be used during the program–and she thought she might not keep up.
She used English all weekend throughout the whole program.
It was hard sometimes but her English skills improved so much by practicing like that.
She thought it might be difficult but it somehow all came together.
Everyone was so passionate and motivated, and wanted to get the most out of the program.
What changes happened during the weekend?
This program completely changes the way that you think–you are thinking in English and that makes a huge difference.
The program is intense because it's 12 hours a day and constant English, and so you are pulled into it and made a part of it.
Rio's mindset changed–she was afraid to use her English, particularly with native speakers.
She's afraid that she's not a good English speaker.
Now after the program she is so much more confident.
The program provided a safe zone to experiment with English phrases.
She could feel good about how she spoke.
It was challenging but safe in this environment.
Students are pushed to use English in this program and Rio's experience can be yours too!
You can become a part of this and learn to use English in a safe environment, and yet feel pushed to make it natural.
Action plans that inspire a new way of speaking!
She was part of the new Action Plan Program–she got great advice and insight to use beyond the program.
It worked so well! It helped her feel inspired by the way that she was taught and the advice that she was given.
Before the program she was so nervous and so she rushed to get the words and phrases out.
She didn't use emotions before and she learned how to manage this in her action plan.
What can you learn from this?
Try to connect yourself, don't try to rush, take your time, and figure out what you are trying to say–this will all help it to come out easier and make more sense to people too.
Rio didn't realize she wasn't looking up or rushing, and so this action plan really helped her to see it.
She was able to change things up because of the advice and observations she received.
Being rooted in the body and being in the entire statement to get your point across.
Before she joined the program she found that she wasn't really into connecting to your words.
She learned how to try to be funny and to make true connections through her speaking.
What challenges did Rio enjoy the most?
She loved Drama Lab because it helped her to see how to do this.
She learned how to express her feelings and show them through her words and her non verbals.
This is new to her because it's not common in her language.
What was it like working with the native speakers?
Having the native speakers there was so helpful and amazing!
The native speakers were great partners and really helped her.
They are so passionate and curious about students and their cultures and life experiences.
They did a lot of talking.
She wishes that she could have recorded some of the lessons or conversations to use at a later date. She wanted that advice and feedback so she could retain it all and use it all later on. Great idea to maybe do next time!
Who should join the Urban Immersion Adventure?
Everyone listening to the podcast can benefit and take their English to a higher level through this program.
A person who likes to learn and to use new skills would do really well in the program.
One piece of advice from Rio:
If you're nervous know that you can do this and that the prep course can help you with the materials to prepare for it.
If you want to improve your speaking skills, you need to force yourself to use English as much as possible.
You can take it to the next level even if you can't see it now.
It may be difficult at first, but you will get there and you will love it.
Once you push through the barrier it will become much easier.
Great advice to listeners and to those who may be interested.
If you understand 70-80% of what we are saying on the show, then you are the perfect person to go on this adventure.
How to apply:
Go here and submit your application now! Prices go up soon so hurry.
Don't forget to send in your video or audio introduction.