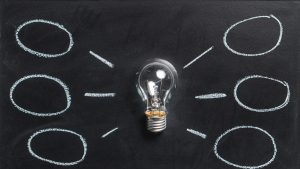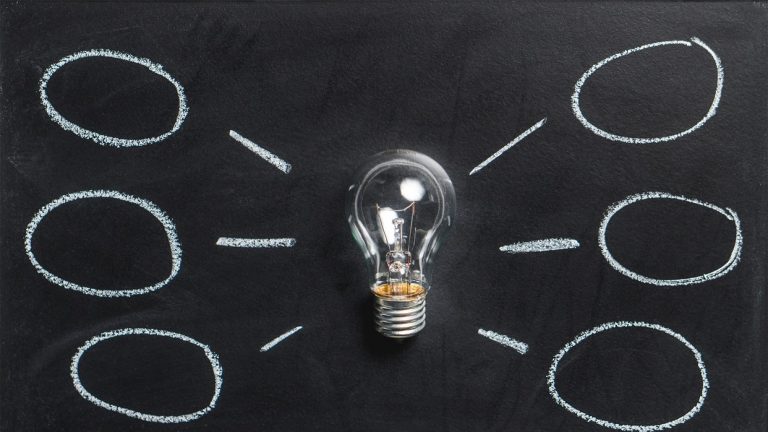 Do you get excited when you have a good idea?
Have you ever had a "light bulb" moment?
Have you heard somebody say this in English and wondered what it meant?
Do you want to know how to get people interested in your ideas when you connect in English?
We're going to look at how to express an idea with excitement, and how to get other people excited in your conversations.
Today we'll start with a question from a listener:
Hey Lindsay and Michelle!

I've been listening to you guys for about 4 years.

Love your podcast, the hosts don't sound like robots. You are amazing!

Do you have an expression that is more colorful than just saying that an idea came to mind?

Camilla
Two Parts To Getting People Interested In Your Ideas
It's not just enough to have a good idea, though that's a great start.
You want to get other people actually interested in your ideas too.
If you want people to use your idea, then you have to consider both of these steps equally.
Two step approach to get people interested in your ideas:
Have the right vocabulary
Have the excitement behind what you are saying
This is how you get people interested because you are engaging them with something they can't resist.
You are using the right words, but your tone or excitement is also convincing them to do what you are saying too.
4 Ways To Convey Energy and Get People On Board With Your Ideas
There are different ways to tell people that you have a good idea.
These are different expressions that tell people you have an idea worth considering.
Then you have to be sure to say it with excitement so that they are convinced and interested.
1. I have a great idea!
Let's do something–usually follows this phrase with an urge to take action.
Has to have a sense of togetherness, which means you are trying to get people on board.
You have to try to get people interested and have them want to join.
When you start off conversation this way, then people can't help but notice you and pay attention to what you are saying.
Be sure that you can back up this phrase with a good idea to convince people to listen to you.
2. I know! We should…
"We should" or "let's" is something that can follow to convey the idea.
This packs in the excitement of the idea in a really simple and effective way.
It takes a leadership type of role and let's the other person see that you have something worth sharing.
It helps to know the person you are talking to well so that you feel confident they will be interested in your idea.
3. Here's a thought…
"How would you like to…." is a great follow up question to tack on here.
That's usually a great way to get people interested with a very specific question.
You are sharing and putting yourself out there–this is how you make connections.
They may come back with a thought as well and then you get a real conversation started here.
4. Let me bounce an idea off of you
There is a certain visual image associated with this one.
It's okay if you don't like the idea, but let me throw this idea at you and see how it lands.
This may be one that you use if you feel a little less certain about the idea.
It can help to get them thinking and if you show excitement, they may be interested.
It could be used casually with friends or even in the workplace when you're brainstorming.
This shows a huge range of vocabulary and different ways to get people excited.
You can use each of these phrases and see which one works best for you.
The idea is to use the right vocabulary along with some excitement to really reach people and get them interested.
Takeaway
When you come up with an idea you want your energy to be what draws people in.
You want to show excitement in expressing your idea to get other people interested.
This can be a challenge in English.
Today we have shown you various ways of showing that you have an idea.
It all comes down to language and energy, because you really need both to make it work.
Expressing a great idea and getting others interested is a great way to make a real and lasting connection.
If you have any questions please leave them in the comments section below.
We'll get back to you as soon as we can.