Are you taking the IELTS Indicator test or the computer-delivered exam?
How are they different?
Jessica took both, so listen up!
This is the only place in the world where you can get this insider information!
How can you learn about IELTS changes?
We are the most up-to-date IELTS teachers in the world!
We did a bonus episode to let you know that the IELTS Indicator is available.
Jessica also took the computer exam and we shared the differences for each section.
If you haven't yet, subscribe to the IELTS Energy podcast so you never miss these updates!
How can you prepare to take the IELTS Indicator?
It is very similar to the computer-delivered IELTS exam.
Our 3 Keys IELTS Computer study program will give you everything you need to ace it!
For the differences on the computer-delivered Reading exam, check out IELTS Energy Episode 819.
Episode 821 compared the computer-delivered Listening exam to the paper version.
In Episode 822, we discussed what is different about the computer Writing exam.
Strategies Created By a Former Examiner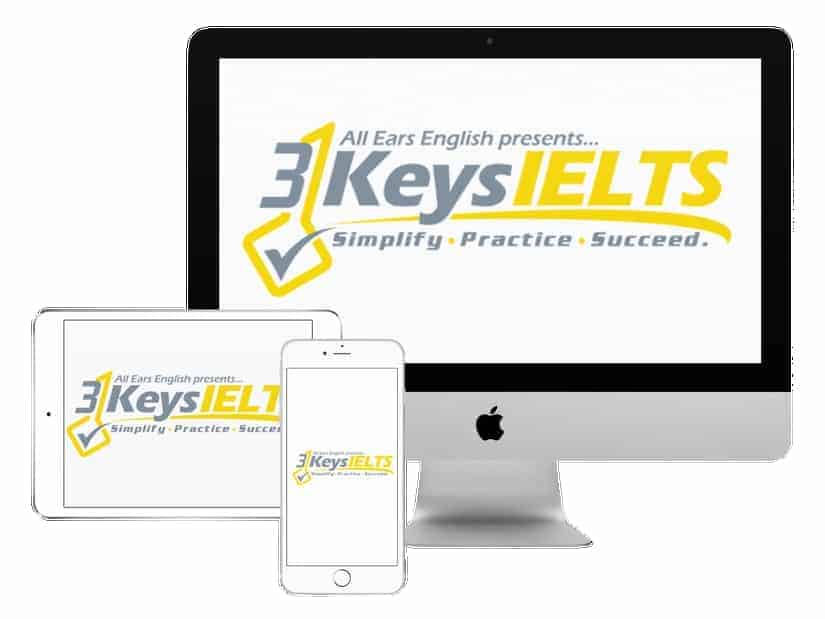 100% Score Increase Guarantee with our Insider Method

Are you ready to move past IELTS and move forward with your life vision?

Find out why our strategies are the most powerful in the IELTS world.

When you use our Insider Method you avoid the BIGGEST MISTAKES that most students make on IELTS.

Click here to get a score increase on IELTS. It's 100% guaranteed.
IELTS Indicator setup
It is only the Academic version because it is specifically for students who need it to apply to a school.
You register online for the IELTS Indicator.
It costs $149, which is much cheaper than the regular exam.
Only available one day a week.
Starts at 9 a.m.
You have to be there online and signed into the secure browser at that time.
You can't take it at your convenience.
They will send you an email with information to download software.
Read all the instructions!
Complete a 3-minute readiness check to test the audio.
You are then ready to take the test the following day.
A separate email will give you the zoom link for the Speaking exam.
Test Day
Login with the username and password that was emailed to you.
Once you login, your computer locks and you cannot exit the screen.
You won't be able to use your computer for anything else until the exam time ends.
There is a bell icon in the upper right-hand corner for "messages."
You can't write any messages there.
You are not required to stay in your seat.
It is the same timing as the IELTS exam.
Listening Exam
Same question types.
Lots of matching, multiple choice, drag and drop questions.
You can navigate from question to question on the bottom of the screen.
It is very similar to the computer-delivered IELTS exam.
There is a timer so you can see the time.
The big difference: You can't highlight key words.
Possibly because of this, there weren't as many parallel expressions as the standard test.
There were fewer tricks and traps.
Reading Exam
Jessica's exam had a lot of Y/N/NG questions.
There were also many table completion questions.
These are very different from the paper version, so you need to be able to practice them.
You can practice these on the 3 Keys IELTS computer-delivered study system.
You can highlight words in the Reading passages.
Writing Exam
The Writing exam is the same as the computer version and the Indicator.
Task 1: 2 Change Over Time graphs, both with future information.
A lot of prediction vocabulary was needed.
They were complicated with a lot of information!
She used the 3 Keys strategies to simplify them, and it was then easy to write the essay.
Task 2: Problem/solution essay with a topic on kids watching too much TV and not being creative or active.
She used personal examples for solutions on keeping her son busy while homeschooling.
Don't be afraid to use personal examples if they apply!
Many teachers will tell you not to use personal examples, but they are wrong!
It doesn't matter what kind of example, it just matters how you write it.
Speaking Exam
This will be a video call over zoom.
It may be with a non-native speaker, but you will be able to understand them.
The script is exactly what you'll hear if it were face-to-face.
The Examiner will share their screen during Part 2 so you can see the topic card.
Similar to the standard test, you cannot choose the time; one is assigned to you.
Takeaway
You may be able to take the IELTS Indicator test while testing centers are closed.
It is taken online at home, and is a very different experience!
If you are prepared for the computer-delivered IELTS exam, you are prepared for the IELTS Indicator!
The 3 Keys Computer study system gives you all the strategies and practice you need, so sign up today!
What questions do you have from today's episode?
Please leave a comment below.