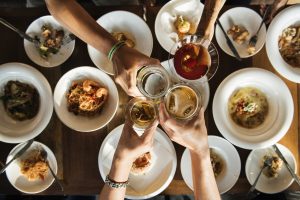 Have you been to any dinner parties lately?
When you go to a dinner party, do you bring something for the host?
Do you feel unsure of what to do or what to bring if you attend a dinner party?
We're going to look at things you can say, what you can do if you feel unsure, and the best types of things to bring to a dinner party as well.
You Always Offer To Bring Something
Etiquette says that you always offer to bring something when you're invited to somebody's home for dinner.
This may be a cultural thing, but in the American culture, it's common and pretty important to bring something.
So how do you approach this?
Knowing what to say and what to offer up is an important part of accepting the invitation.
What to do if you are invited to a dinner party:
You should ask if the host needs you to bring something–this could be food, drink, or anything to go with the meal.

If the host says no, unless you are VERY close to them and often invite each other, you should consider still bringing something
Make sure you understand every word you hear on All Ears English.

Bring your English to the advanced level with new vocabulary and natural expressions.

Get the transcripts from today's episode.

Learn to speak naturally with the American accent.

Click here to subscribe to the transcripts and save 50%
Asking To Show Interest
You get the invitation and then you want to show a genuine interest in bringing something.
The way that you ask and the things that you say can really show the host that you care.
It's great to get an invitation to dinner, and asking to bring something really shows your appreciation.
So how do you ask?
Is there anything that I can bring?
Tell me what I can bring / what can I bring?
Let me know what I can make for the meal
Do you or any of the other guests have any dietary restrictions? I'd like to make something for ____ (dessert, appetizer)
If the host says no:
Okay great, let me know if you change your mind.

Sounds good. Can't wait!
These are the things to say to show that you appreciate the invitation and that you would like to bring something as a token of that.
What Can You Bring If They Say No?
There are times when the host may say that they don't need anything.
Either they have it under control or they don't want to bother you with having to pick something up.
Whatever the reason, there will be a time when you are told not to worry about bringing something.
Most of us don't want to go in empty handed, and so we want to bring something with us.
If you find yourself in this situation, there are a few great ideas that will always be appreciated.
Bottle of wine
Dessert
Flowers
A little host or hostess gift for the house
A little goes a long way when it comes to bringing something, even if the host doesn't need anything.
Takeaway
Being invited to a dinner party is a great way of connecting.
You always want to show the host that you appreciate the invitation, and this often comes through your offer to bring something.
Now you know what to say and how to offer your help in this way.
This helps you to show your gratitude and desire to help–then you can enjoy the dinner party!
If you have any questions, please leave them below in the comments section.
We'll get back to you as soon as we can.