When did you start seeing decorations for the holidays?
Do you notice that many people talk about this in their conversations?
We're going to talk about the holidays, and specifically about the decorations.
We're going to learn why this is such an important topic of conversation, and how you can join in and have some pertinent things to talk about.
Get Your Transcripts Today!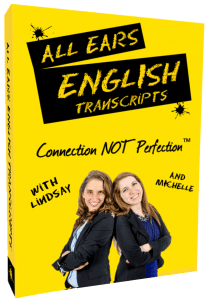 Make sure you understand every word you hear on All Ears English.
Bring your English to the advanced level with new vocabulary and natural expressions.
Subscribe and get the transcripts delivered by email.
Learn to speak naturally with the American accent.
Click here to subscribe and save 50%
Holidays As A Topic of Conversation
The reality is that in American culture, people talk about the holidays a lot.
A huge cultural thing that people tend to talk about is how early holiday decorations go up, especially in stores.
We've done a lot of Christmas episodes, we even did one about songs and how they get stuck in your head.
Another very common topic of conversation around the holidays is decorations.
This is something that people like to talk about, and they tend to feel passionately about one way or the other.
Some Background On These Conversations
Talking about decorations, shopping, or just the holidays in general is quite common.
You are going to hear many conversations about this topic, and you are likely going to be involved in many of them yourself.
There's an interesting article about this: Sick of Seeing Christmas Decorations Before Halloween? Blame 40% of America by Ben Tobin, Lousville Courier Journal on October 30, 2019.
In this article, it says that the National Federation says 40% of people begin shopping for the holidays in September or even before!
The article says some reasons may be that people don't want to spend all their money at once, and that the stores are less busy at that time.
It goes onto say that people think that there will be sales going on for awhile, so they will go to different places at different times of the season.
There's much more to the article, but we're talking about the focus on this busy time of year.
If you look around, you will definitely see that the decorations start earlier and earlier.
They may start as early as Halloween, though things really ramp up around Thanksgiving.
There are pros and cons to this, and this happens to make for a great topic of conversation.
The Holidays As A Topic of Conversation
People typically like to talk about the holidays or some aspect of it in conversations.
They may feel strongly one way or another, but it usually makes a great topic of conversation.
How can you have a discussion with others about holiday shopping and decorations?
This is a huge way to connect with others in a very timely manner about topics that are pertinent at the moment.
These questions can help you to get the conversation going, and to learn a bit about topics that are important within the American culture.
Have you done all your shopping? People love to talk about all the shopping that they have done for the holidays. They are either planners and get it done early, or they are procrastinators and they wait until the last minute to get it done. Either way, this question gets people talking.
Do you have any last minute shopping to do? This is perfect as there are so many procrastinators out there. Some people actually enjoy waiting until the last minute and might get a rush out of it. Others just can't get it together, and so they get some great last minute deals.
I can't believe holiday decorations are already up! It's too late to use this now, but it's a good one to ask early on in the holiday season. People may love the holidays and getting their decorations up early. Some people however think that it gets earlier and earlier every year. No matter what side you are on, you likely want to share your point of view on this subject.
It's only Halloween but I see Christmas decorations everywhere! This is along the same lines where people are in shock just how early the Christmas decorations go up. It seems earlier and earlier in stores, and that is carrying over to people's homes as well. It's a very interesting and opinion driven conversation to have with others.
Did you get any good buys this holiday season? If people like to talk about one thing, it's the money that they saved on gifts. Everyone loves a good bargain, and this is a great question to ask about that. Whether you do your shopping early or you wait until the last minute, you likely want to talk about the deals that you got on your gifts that you bought.
Do you have any strategies when it comes to holiday shopping? If you are talking to an avid shopper they are going to want to want to tell you their best strategies. Even if it's not an avid shopper, they may have tips or tricks of their own. In any case it's a good way to get the conversation going as most of us buy gifts for others.
These are all great things to talk about in your conversations.
Not everyone celebrates Christmas, but during this time of year people are often buying gifts or going to parties.
This is such a fun time of year, and it's a great topic of conversation too.
Takeaway
This is a huge and important topic of conversation around this time of year.
Think about current events, and then consider how you can use them to connect with others.
People generally like to talk about the holidays, often because they have one point of view or another.
When it comes to decorations, this is something that people like to discuss and so it can be a great way to connect.
If you have any questions, please leave them below in the comments section.
We'll get back to you as soon as we can.