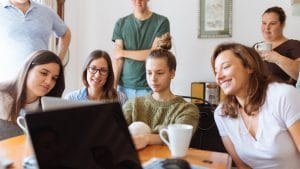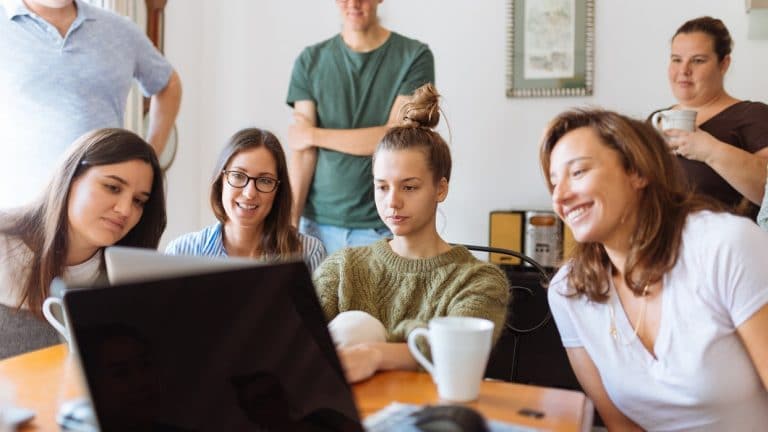 Do you hear people say "you guys" in conversation a lot?
Do you feel uncertain as to when the right time to say this might be?
Is it a phrase that you want to use but feel unsure about?
We're going to show you how to use this phrase, when it's appropriate, and even give you some alternatives to use if you're not sure.
Here's a question that is all about this phrase and when it's okay to use it.
Hi, Lindsay! My name is Ayako from Japan.

Thank you for your great work. I started to listen to AEE one month ago, and this is just what I've always wanted. It's fun and it makes learning so easy. Also, the way you talk always cheers me up.

I teach English at the elementary schools, and I came up with a question. After I had the students repeat some words after me, I want them to then say it by themselves. Which should I say "Just you guys!" or "Only you guys!"? Also, does it sound rude to say "guys" to students? Could you tell me how to express this situation and if there is any other way?

I appreciate you taking the time to read my message. Thank you.

Best regards,

Ayako

Japan
Make sure you understand every word you hear on All Ears English.

Bring your English to the advanced level with new vocabulary and natural expressions.

Get the transcripts from today's episode.

Learn to speak naturally with the American accent.

Click here to subscribe to the transcripts and save 50%
Knowing How To Address People Counts
This is a skill that we can all work at when it comes to addressing groups of people.
You want to know what might be appropriate and how you make that decision.
You want to consider the atmosphere that you are in, and the people that you are talking to.
So let's start with this though–is "guys" a rude word to say to students?
It's used so commonly that it's likely fine in a group like that.
Using the word "guys" gives a sense of a casual or comfortable atmosphere.
Knowing When It's Okay and When It's Not
When you are friends or close to somebody then you may very well say something like "guys" and you would be perfectly fine with it.
Would you use guys in a work presentation?
It really depends on the company culture.
If things are a bit more informal at work, then it's perfectly fine.
If you do not have a casual office and the environment is much more formal and professional, then you wouldn't use "guys" to address a group of people.
Trying To Get Attention In The Right Way
The bigger underlying issue here is how to address groups of people.
You could use this in a work presentation to make sure people understand as long as the environment warrants it.
You might say it as a joke or use it with a more informal group like students or friends.
If you are trying to get somebody's attention or reaffirm something, such as in the example, then you might consider another option.
You could say any of the following to get your point across.
This may also be a time to simply use gestures, like pointing, for they can work well in lieu of words.
When You Need Something Else To Say
What's important to remember is that "you guys" is not appropriate in every situation.
If you feel uncomfortable or unsure, then don't use a phrase like "guys" because it might not be right.
If you know that it's a more formal situation, then you absolutely want to find an alternative.
Here are some phrases to use when in doubt or in a more formal environment.
All of you: It encompasses everyone and so it works just fine. It gets the attention of everyone in the environment, and yet it's definitely more formal.

I want all of you to repeat this/Now if all of you could look at the Powerpoint in the front, you will see additional examples
As a group: It's a collective phrase and so it speaks to everyone that is gathered in front of you. It's a much more polished and formal way of speaking to an entire group.

Repeat this as a group/As a group, it's important that we all remember to arrive at the meeting on time.
Collectively: The word says what it means and so it works well for any setting. You may not need this formal of a phrase but it works anywhere because it's direct and all encompassing.

Collectively, this class should remember to work as a team./Collectively, we must finish this project on time for the meeting next week.
The team as a whole: This is a formal and appropriate phrase for team building, a work group, or even in a presentation. It speaks to everyone and therefore gets the attention of all involved.

The team as a whole should make sure all directions are followed for this project./ It's important to think about the team as a whole and make sure everyone does their fair share.
As you can see when in doubt, there are plenty of phrases to use to keep it more formal.
Takeaway
It's important to address a group appropriately–you should not be too formal or too casual.
Think of the atmosphere, who you are talking to, and then cater your message accordingly.
Always try to be respectful, but know that sometimes certain terms such as "guys" are perfectly acceptable.
Just keep practicing and know that you will master it–and that this is how you make connections.
If you have any questions, please leave them below in the comments section.
We'll get back to you as soon as we can.