In today's episode, you'll meet Amanokawa, a 3 Keys student from Japan.
She just passed IELTS with an overall 8!
She shares advice about the strategies she used to get past IELTS.
She is a university student with one year left of school.
As you can imagine, it's so exciting for her to get such amazing scores.
What were Amanokawa's IELTS scores?
Amanokawa's IELTS journey
She took IELTS because she wants to apply for graduate school in England.
Her goal is to complete a masters degree in migration studies.
She is very excited to finish her undergraduate degree and apply to graduate school.
It's hard to beat that feeling of being done with IELTS and ready to move on with your life!
This is especially rewarding when you put in a lot of time and effort studying for this exam.
Why did she sign up for 3 Keys IELTS?
She had listened to the All Ears English and IELTS Energy podcasts for over a year.
She could see that the information in the podcasts was extremely helpful.
Also, she loved how all the hosts speak in a very natural way.
She trusted that Jessica could create the best IELTS preparation course.
This was partly because of Jessica's experience as an examiner.
Additionally, it was due to her fun, upbeat and positive personality.
What was most useful about our study system?
She felt it really helped her to have a study plan.
It mapped out what she needed to do every day.
She was able to choose between a 30-day plan and a 60-day plan.
She chose the 30-day plan.
Every resource in the study plan was extremely helpful.
She felt like her time was being spent as wisely as possible.
She trusted the resources and timing because she knew the plan was made by a former examiner.
Strategies Created by a Former IELTS Examiner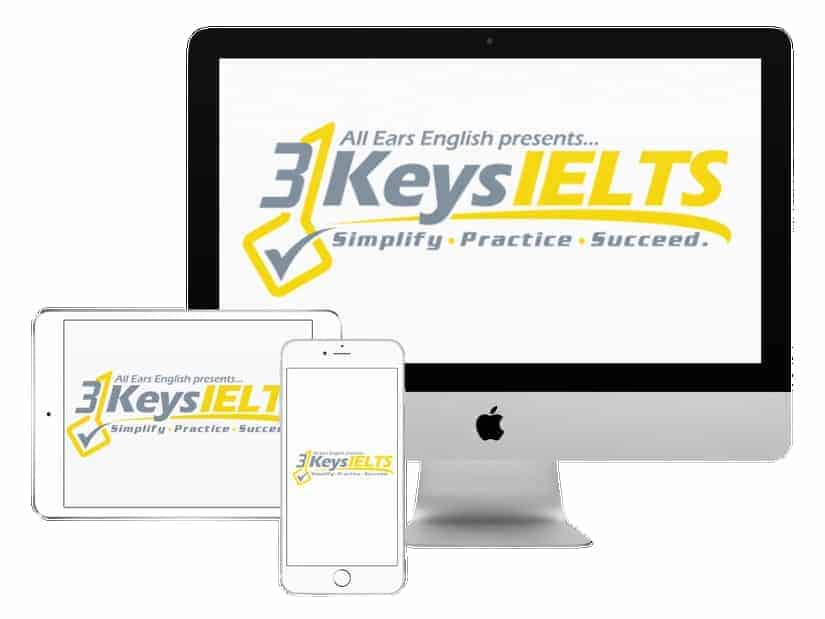 100% Score Increase Guarantee with our Insider Method

Are you ready to move past IELTS and move forward with your life vision?

Find out why our strategies are the most powerful in the IELTS world.

When you use our Insider Method you avoid the BIGGEST MISTAKES that most students make on IELTS.

Click here to get a score increase on IELTS. It's 100% guaranteed.
Ama's tips for improving Speaking scores
She loved everything she learned about excelling in front of the Examiner.
The 3 Keys Speaking module taught her what the Examiner is looking for.
This gave her confidence because she knew what was expected and what to say.
Confidence makes all the difference!
It's extremely difficult to remember the great vocabulary, phrasal verbs etc. you have been learning if you lack confidence and are nervous.
How the anti-anxiety module helped Ama
3 Keys IELTS has an anti-anxiety module.
In it, Lindsay shares her expertise about how to control and use the energy that comes with anxiety.
Reviewing this module right before the Speaking exam helped boost Ama's confidence.
She feels this greatly improved her performance on the exam.
This is evidenced by her amazing score of 7.5!
She was able to be comfortable and relaxed, which helped her speak natively and show her fluency.
Writing scores improved from 5.5 to 6.5
Ama had taken the IELTS exam previously and scored 5.5 and 6 on writing.
This was really hurting her score!
Even though she scored 9 on reading, that 5.5 pulled down her overall score.
She realized she needed strategies to improve her writing score.
With the 3 Keys IELTS strategies, she was able to increase her Writing score a full band point.
Ama's Tips for Writing Task 1
She took the academic IELTS exam.
Ama found the module on Writing Task 1 especially helpful.
This is a very unique type of writing that is difficult to prepare for.
You need strategies.
She learned vocabulary to describe numbers on the charts and graphs.
In addition, the templates helped her to organize the essays.
She felt this knowledge would be useful even after IELTS.
The module helped her feel that she knew how to write a high-scoring Task 1 essay.
On test day, she had a Change Over Time essay and knew exactly how to write it.
Advice for controlling breathing
Often, when taking an exam, your heart will be beating very fast.
It's a stressful, nerve-wracking environment.
Ama suggests to take a deep breath before each exam.
Give yourself a confidence boost.
Take a moment to meditate and have a 'moment of zen.'
This will calm you and help you control your breathing and stress level.
Take a moment to recognize how much you've accomplished and acknowledge that you're ready!
Takeaway
Ama was able to use strategies to get amazing scores on IELTS!
She is now ready to move on with her goals.
It is a very exciting feeling to be past IELTS!
If you're stuck with low scores and need strategies, sign up for the system that helped Amanokawa get an overall 8!
Our strategies will help you get the scores you need and get past IELTS.
You can then move on with your life and goals.
We can't wait for you to get the scores you need on IELTS!
What questions do you have from today's episode?
Please leave a comment below.