Today you'll meet 3 Keys IELTS student Renee.
She is our most recent Writing Wizard essay contest winner.
We'll provide insight about why her essay received a high score.
You'll also hear the strategies that helped her write such a high-scoring essay.
Apply these strategies to get 7+ on IELTS Writing.
For every strategy you need, sign up for 3 Keys IELTS!
What is the Writing Wizard essay contest?
This is a contest available to students in our 3 Keys IELTS course.
Each month, we choose a new IELTS Writing Task 2 topic.
Students can submit an essay on this topic.
We grade them and choose the highest-scoring essay.
This student wins a free 15-minute consultation with one of our team.
They also record a podcast episode with us!
This gives them a chance to share the tips they have learned with our audience.
Renee's IELTS journey
She plans to complete a phD in biotechnology.
For this, she needs impressive IELTS scores.
Her goal is to work in bioengineering combined with immunology.
This is such a vital career, especially in light of the global pandemic we're currently experiencing.
Once she passes IELTS, she is excited to move on with her goals and dreams!
Why Renee's essay scored so highly
She used high level vocabulary!
A lot of this was in template sentences she learned in the 3 Keys IELTS system.
In the following paragraphs, I will explore the rationale…
Her introduction was very impressive.
cultivate collaboration
arousing an ambitious spirit
essential for their future
She uses high level vocabulary in context to increase vocabulary scores.
Strategies Created by a Former IELTS Examiner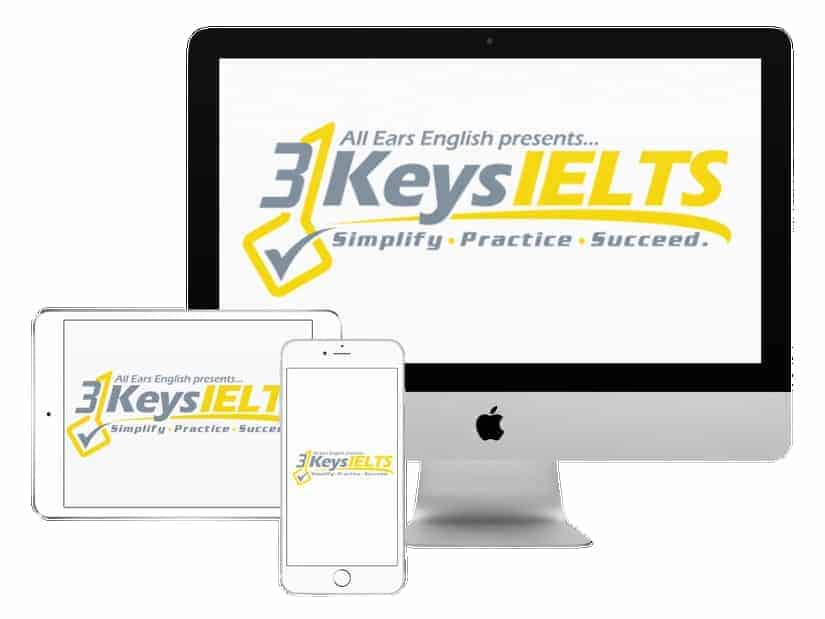 100% Score Increase Guarantee with our Insider Method

Are you ready to move past IELTS and move forward with your life vision?

Find out why our strategies are the most powerful in the IELTS world.

When you use our Insider Method you avoid the BIGGEST MISTAKES that most students make on IELTS.

Click here to get a score increase on IELTS. It's 100% guaranteed.
Where does she find this high level vocabulary?
She watches movies she knows will have interesting and impressive vocabulary.
Documentaries on Netflix are one source she has used.
She has also made use of social media platforms to learn new vocab.
She chooses a variety of interesting sources that are engaging for her.
The key is she's not just adding it to a list.
She learns it in context and adds it to a vocabulary notebook with example sentences.
Then, she uses it often in practice essays so she has it mastered for test day.
What was Renee's process for learning to use template sentences?
While completing the 3 Keys Writing module, she learned new vocabulary and sentences while watching instruction videos.
As she watched them, she took notes on all template sentences.
These are sentences she knows will be useful on the exam.
She adds them to her vocabulary notebook in context.
There are different template sentences depending on the essay type.
She practices using them over and over and memorizes them so she can use them quickly and accurately on test day.
Tip #1: Save time brainstorming
Don't overthink the reason for your opinion!
Renee's advice is to not spend time thinking of the best idea.
Don't change your mind and pick a new reason for your opinion.
Once you have thought of one, stick with it!
You don't have time to come up with multiple reasons.
You only need one, so think of one and move on to thinking of details and examples.
Tip #2: Memorize linking phrases
Each one has meaning.
You must learn the context so you use it correctly.
For example, some are specific to introducing examples.
For instance,
For example,
As an illustration,
As an example,
Additionally, you must memorize the spelling and punctuation so they are error-free.
It's not enough to have a list of linking phrases.
You must learn them in context and practice so you can use them on test day!
When will Renee take IELTS?
Her test date is scheduled at the end of this month.
She still doesn't know if she feels ready.
This is difficult for all students!
Even a student like Renee who just won a writing competition might doubt themselves!
It's hard to feel 100% confident.
However, it is vital that you go in knowing you are ready!
When you have strategies and have worked hard to apply them, you have every reason to feel confident!
Takeaway
Learn from Renee's tips how to use high level vocabulary and template sentences.
She used these to win last month's Writing Wizard essay contest.
This advice will help you score 7+ on IELTS Writing.
For the strategies she's using, sign up for 3 Keys IELTS!
In addition, put in the effort to practice these strategies.
This way, you will be able to be confident on test day!
What questions do you have from today's episode?
Please leave a comment below.