Today, meet Koji, a student from Japan who just took his first IELTS exam.
Even though it was his first time, he got amazing scores!
Find out how he managed to do that.
Hear his advice for getting the scores you need.
You'll also hear what he plans to do now that he's past IELTS!
What scores did Koji get?
On the practice tests he took before the exam, he was scoring lower.
He got 6's and 7's on the practice tests he took online.
He was surprised to get a much higher score on test day.
Why does this happen?
There is certainly some luck regarding the Writing topic you receive.
You also may be asked easier questions on Speaking.
However, you can't count on this!
For this reason, it's vital that you have strategies to fall back on.
For all the strategies you need on every part of the exam, sign up for 3 Keys IELTS!
#1: Listening
Koji got a fantastic Listening score!
He feels that Listening has always been his strong point.
He listens daily to music and the news in English.
His advice is to make this a daily habit.
Strategies Created By a Former Examiner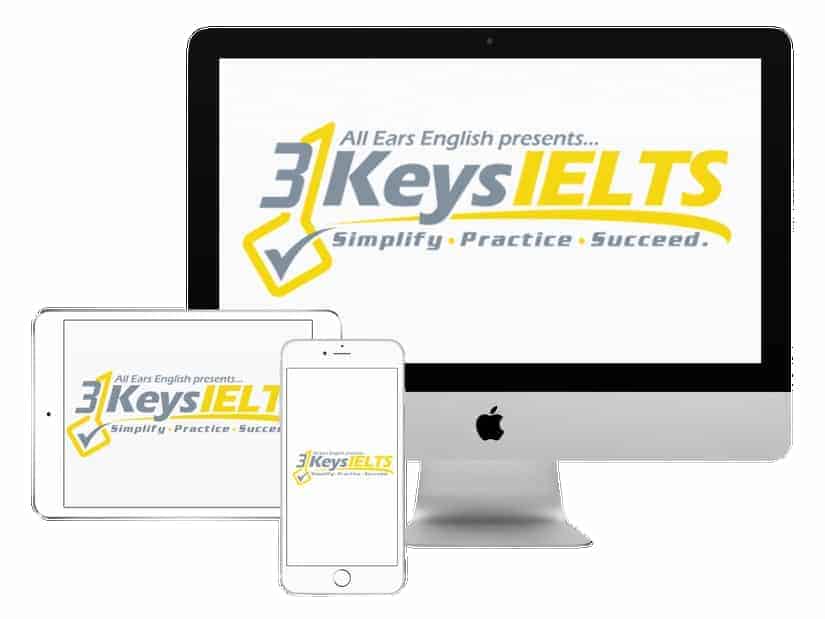 100% Score Increase Guarantee with our Insider Method

Are you ready to move past IELTS and move forward with your life vision?

Find out why our strategies are the most powerful in the IELTS world.

When you use our Insider Method you avoid the BIGGEST MISTAKES that most students make on IELTS.

Click here to get a score increase on IELTS. It's 100% guaranteed!
#2: Reading
Koji says that he is not a big reader.
It has been a challenge to read more academic material.
He read academic papers written by a friend.
He felt this was because he has been in an out of school.
His self-awareness is impressive!
He saw the gap and knew he couldn't just read fiction novels and get 7+ on the Reading exam.
He was very proactive in his study.
#3: Writing
Koji did very well on the Writing exam.
He was not expecting a 7, because he did not finish one of his essays.
His 7 in spite of this shows he used the 3 Keys strategies and wrote very good essays.
Because of this, in spite of not finishing an essay, he still got a very good score!
Koji felt very confident on test day.
This is because he had completed the 3 Keys IELTS course and had the strategies he needed!
Task 1 difficulties
He struggled on the letter.
He took longer than the recommended 20 minutes.
What helped was having templates.
These had high level vocabulary and linking words to boost his score.
He already knew what structure to use.
He had practiced this daily so he was ready!
Advice on sharing a strong opinion
In our course, Koji discovered that he must share his opinion on every IELTS essay.
This applies even if the topic doesn't ask for your opinion.
Not only does it need to be present, but it must be justified.
You must give reasons, supporting details and examples for this opinion.
It should line up with the idea of at least one of your body paragraphs.
#4: Speaking
This is an excellent Speaking score!
Koji felt he had difficulty finishing his ideas.
However, he felt he could do better.
He recognizes he has a tendency to be self-critical and negative.
He works in customer service in his native language.
Usually, he is able to converse easily.
He also is able to chat with friends in English.
However, IELTS is not the same as daily conversation.
Test-day anxiety
Initially, Koji had a lot of anxiety.
He decided to be confident!
This helped him go into the Speaking test confident.
Therefore, he performed well in spite of difficulty finishing sentences.
In our IELTS course, we provide a module for managing anxiety and using it to your benefit.
Takeaway
Koji and his wife are now moving to Portland, Oregon.
He is able to move on with his goals and dreams.
We want you to be able to do the same!
Today's tips and advice will help you get the score you need.
You need strategies to get 7+ on IELTS.
For tips on every part of the exam, sign up for 3 Keys IELTS!
What questions do you have from today's episode?
Let us know in the comments below.